4. Slowed Growth: If humidity levels are not optimal for the growth stage, they don't grow as fast as they could. Younger cannabis plants grow better in higher humidity than more mature plants.
It can be difficult to keep humidity and temperature levels at the right balance throughout the plants' life cycle. Keep in mind that warm air retains more water than cold air and that relative humidity and temperature interact to create the perfect balance. The following are hands-on tips for adjusting these levels but note that there is technology available in the Saas Cloud that will wirelessly do the work for you.
What's the Difference Between Temperatures and Humidity Levels?
Temperature and humidity levels interact and are very similar and are closely related to one another. Humidity is the measure of how much humidity is actually being held in the air. Relative humidity (RH) which is one way to measure humidity levels, is how much water is in the air compared to the maximum amount of water that can be held in the air at that temperature. The premise is that warm air holds more water vapor than cold air so it is important to get the warmest air in the environment. It is necessary to extract the warmest air from the growing environment while allowing cool air to enter. The warm air alone has way too much vapor for ideal growing conditions.
Humidity levels must be monitored to prevent:
Tips To Adjust Temperature and Humidity for Cannabis Growing
The marijuana industry created an estimated $34 billion economic impact in 2018. Legal sales of marijuana are expected to increase from $10 billion in 2018 to $20 billion by 2022, according to the Marijuana Business Fact Book. This means that more and more legal growers (under strict governmental regulations) will be on the American horizon seeking the best indoor growing practices. Temperature and humidity monitoring are essential for growing healthy cannabis plants throughout the entire life of the plant…seedling to harvest.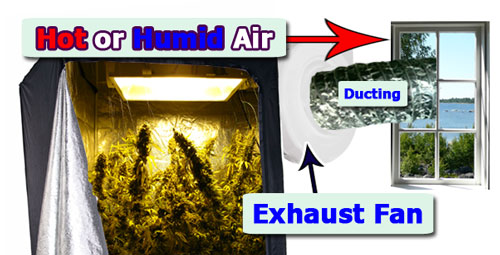 Here's a really simple solution that lets you check your temperature and humidity of your grow room in real-time, even if you're not at home!
If you want to grow sticky, high-potency buds, your cannabis will demand attention to its many needs.
For those interested in learning more about the science behind this, there is a term used by greenhouse growers known at VPD, or Vapour Pressure Deficit, that roughly measures the temperature and relative humidity.
Cannabis likes a comfortable room temperature, or a little warmer – not too dry, not too humid. For most growers, that is all you need to worry about.
Bud Mold or Rot
Can cannabis stand higher temps? What if my grow room is too hot?
Avoid over-watering plants – soggy soil (or leaving extra water in plant trays sitting in the grow area) will tend to raise the humidity of the grow room
In all stages of cannabis growth your plants will have a constant need to intake water, and the amount of water they need fluctuates with the humidity in your grow room. When the humidity is high, cannabis plants use their leaves to absorb moisture from the air which causes them to drink less water from their roots. Conversely, when the humidity is low, they will pull more water in through their roots.
This range is also optimal for preventing mold, so it doesn't get any better for drying if you're a beginner!