Everything should be cleaned up, dried, and curing well before the Winter Solstice. Now's a good time to make your own cannabutter, topicals, or tinctures with all that trim from the harvest. Kick your feet up, relax, and hunker down for the cold, it's been a long growing season!
Cannabis plants are considered seedlings until they begin to develop leaves with the full number of blades on new fan leaves. A healthy seedling should be a vibrant green color.
Important dates for growing marijuana outdoors
If you're growing weed indoors, you can grow whenever you like. Keep in mind that the outside environment will affect your grow space—you may need to add heaters in the winter or fans and ACs in the summer. Other than that, you can start seeds whenever you like and flip them into flower whenever you like, depending on how big you want the plants.
Seed germination
Be sure to keep a grow journal to track the progress of your plants. Looking back on your notes will help you learn from mistakes and maximize the quality and quantity of your buds.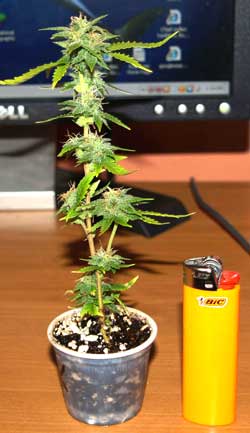 As long as you give your plants more than 14 hours of light a day, they will stay in the vegetative stage. But if you give the plant more light than that, they have more time in the day to grow!
With a well-chosen strain and a good setup, one can harvest several ounces of buds in less than 4 months indoors, which is nearly impossible to do outdoors in the same timeframe.
3.) Give Plants 24 Hours of Light per Day During the Vegetative Stage
If you're growing hydroponically (directly in water, or in a soil-less medium like coco coir), it is essential that you provide all the nutrients your plant needs right from the beginning.
Growers often write in to ask us how much time it will take per week to grow a marijuana plant. We understand that many of you have busy schedules, and want to know if growing your own weed is a realistic goal for you.
5.) Grow Indoors
Now that you're equipped with the information to get you to harvest as soon as possible, let's quickly address another common question we receive about time.