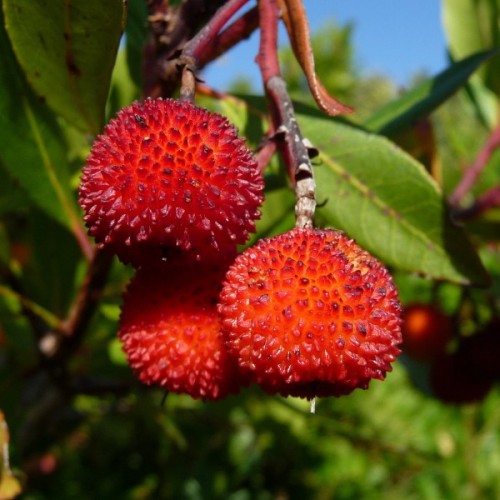 The elegant strawberry tree is best distinguished by its highly ornamental fruits that turn from gold to red. It is a broad, upright large shrub or small tree native to southern European and the eastern Mediterranean with an adjunct population in Ireland. Like many members of the heath family (Ericaceae), it favors moist, rich, slightly acid soil but will also tolerate summer drought. Mature specimens adopt an appealing vase-shaped habit and gnarled branches.
Fully evergreen, ovate leaves of dark green cover the tree. These have a leathery texture and may be susceptible to sun scald and wind desiccation in winter. The mature stems are lined with gray bark that peels away to reveal a nice cinnamon brown layer beneath. Bloom time is variable depending on geographic location, but most flower in autumn. The pendulous clusters of urn-shaped flowers are creamy white and pollinated by bees. They give rise to the colorful "strawberry" fruits the following autumn. It is not uncommon for plants to have flowers and fruit at the same time. The fruits are edible but don't taste good.
Strawberry tree grows best in full to partial sun and fertile soil with a slightly acid to neutral pH. It is quite drought tolerant once established. Growth tend to be better where summers are dry and winter weather is cool and wet. Shelter from winter winds and in more arid regions provide more shade and irrigation in autumn. Strawberry tree is a good choice for Oceanside plantings and makes a lovely specimen plant for yard and garden.
Information source: www.Learn2Grow.com.
FAST ORDER DISPATCH
We ship paid orders in 24 hours.
EASY AND SECURE CHECKOUT
We accept Credit/Debit cards, PayPal, USPS Money Orders, Western Union.
FREE DOMESTIC SHIPPING
For all domestic orders $80 and over.
GERMINATION INSTRUCTIONS
We always include printed germination instructions.
Genus – Arbutus
Species – Unedo
Common name – Strawberry Tree
Pre-Treatment – Required
Hardiness zones – 7 – 10
Height – 20′-25′ / 6 – 7.60 m
Spread – 20′-25′ / 6 – 7.60 m
Plant type – Large shrub / small tree
Vegetation type – Deciduous
Exposure – Full Sun, Partial Shade
Growth rate – Slow
Soil PH – Acidic, Neutral, Alkaline
Soil type – Clay, Loam, Sand
Water requirements – Drought Tolerant, Average Water
Landscape uses – Container, Feature Plant, Foundation, Shade Trees
Leaf / Flower color – Green / White, light pink

Seeds are now available at our seed store.
Arbutus unedo
A medium sized bushy tree that can reach 30ft, but usually remains only 8-15ft. Blooming period is usually autumn and winter, followed by fruits ripening from yellow to orange, and finally red over the next 9-12 months. Fruits and flowers usually appear on the tree together. Flowers are white-pink, and look much like blueberry flowers, having a bell shape.
Seed Availability
Trees are salt tolerant, and do best in mild, wet winter climates, with dry, warm-hot summers.