Another option is container growing. There are special pots made for growing strawberries called strawberry planters. These are ideal for growing strawberries on your porch, or anywhere that you would do container planting. The pot makes it easier to rotate the plants, ensuring that all fruit gets evenly ripened. The small openings allow the strawberries to grow through, but limits the amount that weeds can grow. The most important thing in container gardening is ensuring that your plants get consistent water (especially with terracotta pots, which tend to dry out quicker).
The most common danger to your strawberries is being picked off by birds. Use a lightweight bird netting to keep birds away. A red plastic mulch will stave off slugs, and watering consistently will keep your fruits plump and plentiful.
Ever-bearing strawberries produce a very heavy crop of berries in the early summer, and then several smaller crops in late summer and fall. They require cool night temperatures (below 65° Fahrenheit) for the fruit to set. Ever-bearing strawberries are perfect for containers as well as raised beds, requiring attentive watering and regular feeding.
June-bearing strawberries produce their crop over a span of 3 weeks from late spring to early summer. Because they produce so early and plentiful, June-bearing strawberries are ideal for preserving.
There are a couple different ways to grow strawberries in your backyard. The most obvious is planting live roots directly in your garden. Strawberries require at least 8 hours of sun a day, and they prefer slightly acidic soil. Plant your strawberry plants with the roots under soil but the crown visible to the air, as they prefer good air flow. Keep them well watered, and space each plant about 10-15 inches apart, as strawberry plants produce offspring shoots quite readily. If you decide to start your strawberries from seed, be sure to cold treat the seeds first.
If you're one of the many that didn't know how easy it is to grow your own strawberries, then here's your wake up call! Just imagine sun-ripened, fresh picked berries going into strawberry pie, strawberry shortcake, strawberry jam… is your mouth watering yet? The possibilities are endless. There are a few different types of strawberries, and these are the ones you'll most commonly hear referred to:
Alpine strawberries produce dime-to-nickel-sized, intensely flavored berries that can be red, yellow or white, depending on variety. Many alpine varieties do not produce runners, but they do re-bloom and set fruit repeatedly throughout the summer. Because of their small size, alpine strawberries are best grown in raised beds or roomy planters, where they can be easily accessed and harvested.
What are your favorite strawberry recipes? Share with us in the comments section!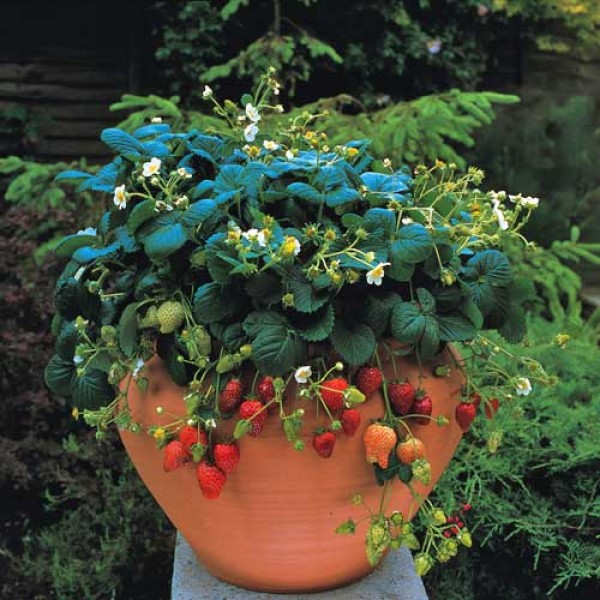 Info: Strawberry Temptation is a delicious `sweetheart` type. This easy to grow ever-bearing variety gives luscious, good sized dark red fruits in the first season. The plants are vigorous, compact and almost runnerless making Temptation ideally suited for hanging baskets or for use in grow bags or patio containers. It is also well suited to short season climates.
Sowing & cultivation: Sow indoors in February/March or outdoors from April on. Seeds germinate best after cold treatment. Place the sealed packet in the freezer for 2-4 weeks. Cover seeds only lightly with soil. When the plants get their second set of true leaves, thin them out, leaving three to four inches between plants. Or, replant them into separate containers. Strawberries do not like wet roots, preferring a well-drained site with a preferably slightly acid, medium loam. They tolerate shade but thrive in sunshine. To avoid diseases, you should plant strawberries in a 3-year-cycle at new locations in the garden.