As Democrats have control of both the House and the Senate as well as the presidency, marijuana policy reform advocates are hopeful legislative change could occur on the federal level soon. Politico pointed out that, in 2019, 296 members of Congress (68%) represent the 33 states with at least medical marijuana, which means there are sufficient votes to pass long-awaited bills. There are already several bills in the new Congress pertaining to marijuana.
President Joe Biden has expressed that he wants marijuana decriminalized as well as having the criminal records of those convicted of possession of the drug expunged. Meanwhile, Vice President Kamala Harris was one of the co-sponsors of a bill called the Marijuana Justice Act introduced by Senator Cory Booker, which decriminalizes marijuana. Harris has expressed support of expunging convictions for those caught with marijuana and calls out for a path toward decriminalization and legalization.
Changing Attitudes Toward Pot
According to a Pew Research survey, 67% of Americans believe the use of marijuana should be legalized. This is double what it was in 2000—31%—and five times what it was in 1969—12%. A New York University study revealed the percentage of adults aged 50 to 64 reporting marijuana use has doubled in the past decade to 9% and use among adults 65 and older has increased seven times during the same period to nearly 3%. The U.S. marijuana industry will generate $85 billion in sales in 2030, according to Cowen analyst Vivien Azer.
It's true CBD is having its moment. The term "CBD gummies" was the third-most searched food-related term on Google in the U.S. in 2018. Large companies like Corona owner Constellation Brands (STZ.B) and Marlboro cigarette maker Altria Group (MO) have bought multibillion-dollar stakes in marijuana companies. But forecasts for the CBD market argue this isn't just a temporary wellness craze.
Policy Reform
A total of 35 states and the District of Columbia have legalized marijuana for medical use, 16 of which allow adults to legally use the substance for recreational use as of April 2021. And that number may continue to rise, as more people are accepting the idea of legalizing marijuana across the United States.
Many states have made cannabis legal for medical use. Starting with the states of Washington and Colorado in 2012, others have followed to legalize it for recreation as well as health.
In all, 12 states and Washington, D.C., have fully legalized marijuana for medical and recreational use. These include Alaska, California and Colorado as well as Oregon, Vermont and Washington. Illinois recently joined this growing group, which also includes Michigan, Nevada and the New England states of Maine and Massachusetts.
Where It's Legal to Grow Cannabis
As you probably know, there has been a growing trend to legalizing cannabis in recent years. Ever since California became the first state to legalize marijuana for medical use in 1996, other states have been lining up to follow in that progressive state's footsteps.
Generally, you can grow pot legally in many of the states that have legalized marijuana. States that have approved cannabis for recreational as well as medicinal use generally have the most liberal growing laws. Alaska allows the most pot plants to be grown by individuals. Alaskans can better get through their frigid winters thanks to the state's law allowing individuals to grow as many as a dozen pot plants for recreation or medicine. That may make it the best state to grow marijuana in if you happen to be looking for quantity for personal use, at least.
Medical Use Only States
Whether you like to take a tiny toke now and then or have been thinking about getting into the burgeoning cannabis industry for fun and profit, you may have wondered what states is it legal to grow marijuana in?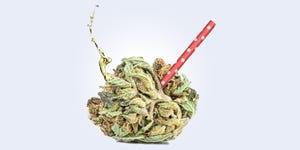 • It is legal for adults 21 and over to possess up to two ounces of marijuana.
• It is legal for adults 21 and over to grow up to six plants per household, but no more than three can be mature at a time.
• It is legal for Illinois residents 21 and over to possess up to 30 grams of marijuana (roughly 1.06 ounces). Non-Illinois residents 21 and over can only possess 15 grams of marijuana (roughly half an ounce).
• It is legal for registered medical marijuana patients to grow up to five plants per household that are five inches or taller.
New Mexico, Virginia, and Connecticut enacted legal weed for their residents in time for the Fourth of July.
Montana
Want to read all the best stories about Marijuana in America? Join Esquire Select
Obviously, legalization has a lot to do with that. In the U.S., recreational marijuana legalization is slowly eking out victories on a state-by-state basis. Colorado kicked off the movement in 2012. In the 2016 election, which was bad for most reasons but good for this one, four states got on board, raising the total to eight states to legalize. On Election Day 2020, another four states added their numbers to the growing pack. This March, New York made its long-awaited leap into the legal industry, pushing a progressive bill through the state legislature. On its heels were Virginia, New Mexico, and Connecticut, all three of which put legalization into effect just in time for America's 245th birthday party. More than a third of us Americans live where it's legal.
Michigan
• It is legal for adults 21 and over to possess up to one ounce of marijuana.
• It is legal for adults 21 and over to grow up to six plants per household, but no more than three can be mature at a time.
In addition to the 18 states plus D.C. with legalized recreational weed—and therefore legal medical marijuana—these 18 states have legalized just medical marijuana. NORML has the full rundown of each state's law.