The California Cannabis Control Board in accordance with Prop. 64 caps the maximum number of cannabis plants that can be grown by an individual at any given time at six. That assumes you're over 21 and aren't doing so in a community that has a local ordinance banning or further restricting such cultivation.
Los Angeles marijuana dispensaries routinely sell pot seeds over-the-counter, and cost is roughly $12 for a pack of 10, though higher-end strains can run several hundred dollars. Dispensary options are limited compared to what one might find online at a California cannabis seed bank.
Generally speaking, cannabis seeds can be lawfully purchased by adults states with legal adult recreational use (like California) either at a dispensary or online intrastate (meaning not purchased from another state – even one that has also legalized the drug). The reason for this restriction is that interstate sales fall under the purview of federal law, which still considers marijuana a dangerous narcotic.
Cannabis Seed Sales and California Law
As the legal cannabis market has expanded, selling cannabis seeds has become more commonplace, especially as consumers' tastes become more refined. Still not all cannabis seed sales are lawful.
Many marijuana growers pride themselves on their extensive knowledge of marijuana growth, which obviously begins with the seed. The three basic types of cannabis seeds are regular, autoflowering and female, with each containing broad subtypes, often referred to as "strains." Many cannabis cultivators pride themselves on various elements of the strains they grow, as the effects can vary widely depending on seed properties. Certain strains are better for those seeking medicinal relief, while others are better for creating various degrees of intoxication and still others for a distinct taste. Growers are increasingly asserting intellectual property rights, something all cultivators should discuss with their cannabis business attorney.
Genetic Seed Variations Can Be Protected Intellectual Property
Last month marked the start of the typical marijuana grow season, which runs March through November, which meant individuals and large cannabis firms in California were on the hunt for high-quality seeds for purchase on the legal market. Cannabis seeds are at the core of the California marijuana industry, and the internet can connect farmers from San Diego to San Francisco and beyond to the growing demand.
Those selling cannabis seeds in California, either in-store or online, need to be certain procedures are in place to prevent sales to restricted buyers (mostly minors).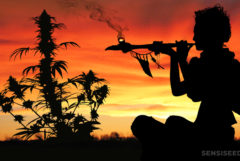 In 1972, California was the first state to attempt to legalise the drug. Their attempt failed, as two-thirds of Californian people voted against it.
The 1937 Marihuana Tax Act (which made cannabis illegal at federal level) didn't actually have much impact in California; as the state's authorities were already punishing those who consumed, grew or sold the drug. By the 1950s, being in possession of cannabis could land the offender in prison for as long as ten years.
All harvested cannabis (and plants) must be kept within the grower's private residence, or in the boundaries of their property (e.g. a garden). They must be in a locked space, and must not be visible to the public. If these terms are violated, the individual may be given a $250 fine.
Numbers of consumers are rising, and numbers of rejectors are decreasing – which suggests that Californians are, on the whole, becoming increasingly more tolerant towards cannabis use.
Cannabis in Colorado – Laws, Use, and History
This limit doesn't apply to registered medicinal users, who are technically allowed to grow as much cannabis as they require.
However, there are restrictions to this law. Cannabis users are not permitted to:
At present, it's legal to use cannabis seeds to cultivate plants in California. It is technically permitted to send the seeds within California via the mail, but federal law forbids transporting them across state borders. As such, individuals may encounter issues mailing seeds into California from other locations, and anecdotal reports suggest there are sometimes issues with packages being held by Customs.
The hippy movement
The California Department of Food and Agriculture is responsible for the regulation of the industry in the state. At the time of writing, it has just finalised the rules regarding the cultivation of hemp, and the registration process for growers. In order to legally grow hemp, farmers must first register via their local County Agricultural Commission Office. There is a farming fee of around $900 per year.
A recent survey showed that attitudes towards cannabis in California can largely be divided into three groups.
Yes people grow from seeds.
I guess my question is more, would I need a license similar to the stores that sell the flowers? Or is selling the unfinished product less regulated?
As a resident of the state of California, i have a question about the new marijuana laws. I know that I can legally grow six plants as a resident. However, would I be able to sell the seeds that are produced from the plants I grow? Would it be illegal to sell these seeds online to another California resident?
I'm no expert, but to people still grow from seed, though? I thought it was all clones now.
If you are growing for flower, having seeds is not a good thing. You want all female plants and no males. You need males to fertilize to produce seed. If your female plant makes male flowers, it's due to something undesirable happening. To produce good cannabis seed you need to know what you are doing. Don't mean to imply you don't know this, just adding in case you were unaware.