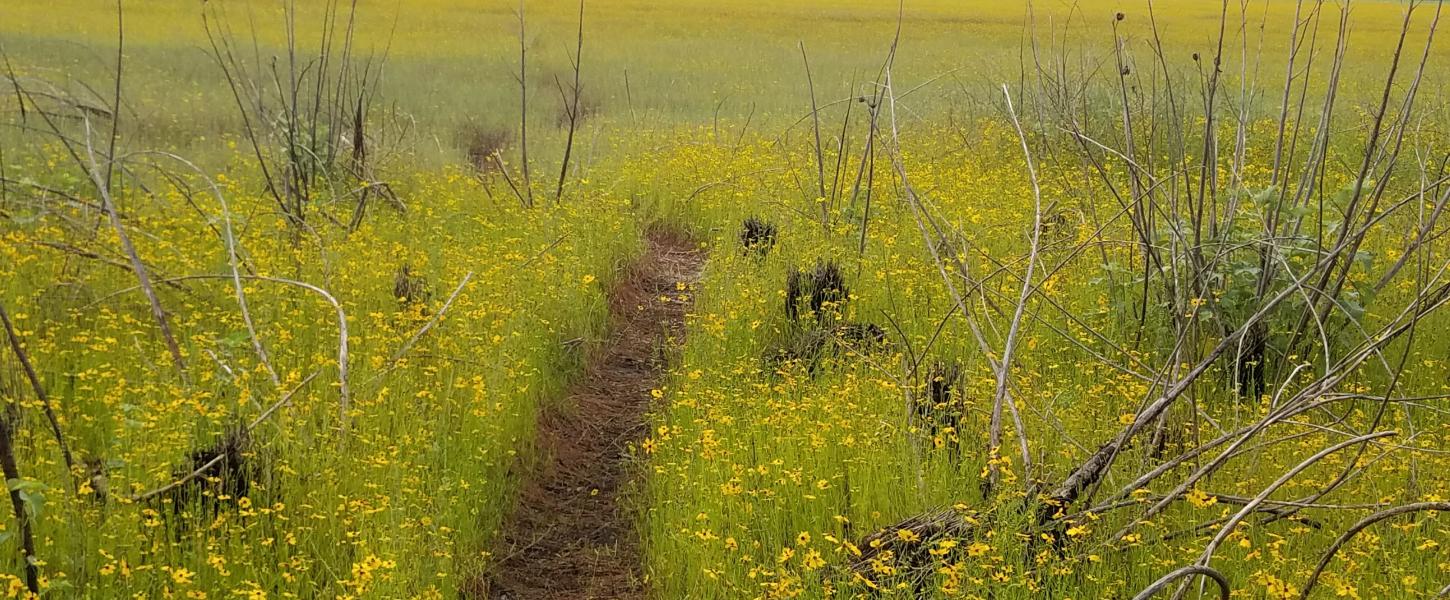 Coreopsis, commonly known as tickseed, is the official state of Florida Wildflower. This delicate, native flower blooms in abundance in mid-May, at the Big Flats Marsh in Myakka River State Park. As the dry season gives way to legendary Floridian storms, Coreopsis seemingly burst from the ground, covering the rolling field with bright yellow joy.
Myakka River State Park has two types of Coreopsis. Coreopsis leavenworthii has a slightly larger flower, and it grows sporadically throughout the year, usually near seasonal ponds or on marshes along the river. Coreopsis floridana has a slightly smaller flower, and this species comprises the phenomenal late-spring bloom in Big Flats Marsh. (Coreopsis floridana is pictured above.)
The Coreopsis bloom is a beautiful sight to see. Visitors are encouraged to bring cameras! Please do not bring any large/structural equipment. Please do not pick any flowers. These helps us protect the blooms for years and generations to come.
But money changes things, of course. At one point, it got so serious that someone killed a detective's dog and put a water moccasin in his mailbox. Gary Clark went to the Myakka City Post Office and spray painted: "Anyone who rats on a grower is a dead rat."
That never would have happened in federal prison.
When he was growing marijuana in the snake-infested swamps of Myakka City, and making a fortune doing it, he never dreamed that one day the real value would be medicinal rather than monetary.
Now everyone agrees: No one grew pot better than Donnie and his boys, Duane and Gary. They called it Myakka Gold, and the stuff was legendary. No seeds, leaves or stems, the buds so pure one even made the centerfold of High Times magazine. When business was cranking, they were selling it for $3,500 a pound, and they could harvest 300 pounds a year. No one could touch them.
Donnie Clark wouldn't mind getting out of Bradenton. Traffic's terrible, and what's become of people, anyway? One morning a few months ago, just as the sun was rising, he was sitting on his porch when a couple of guys in masks attacked him, broke his nose and stole his money.
When he went to prison, the feds took his 600-acre Myakka farm and when he came home, they didn't give it back. At 77, his book sales are one of his few sources of income, and Surterra's move hasn't made him money, but it has made him mad.
In 2010, Donnie sat down with his girlfriend and wrote down his memoirs to put into a book he called, "The Donnie Clark Myakka Gold" Originally, it was over 740 pages, but the publisher told his girlfriend they had to narrow it down to 350, so they did, and it was published in 2012, and can be found on Amazon at https://www.amazon.com/Donnie-Clark-Myakka-Gold/dp/1614931275 . It's a very enjoyable ready and I highly suggest it.
In the last minutes of the last day of his presidency, President Clinton signed his last presidential pardon – a slot usually given to the most controversial case. This particular pardon was the communion of a life sentence for a felon who had served time in a state prison before being given the sentence of a lifetime in prison. For a non-violent offence. No one was murdered. No one was even hurt. Nothing has been stolen (except from the prisoner, by one of the witnesses at his federal trial).
Surterra stands to make a nice profit from their new product and nicely marketed line. But Donnie Clark, who went to the federal prison as the "ring leader" of the infamous Myakka Gold Gang to serve a life sentence for the crime of inventing and growing it, isn't making a dime, and his legacy is being stolen.
Legacy Lost?
The legend took on a new chapter when, in 1989, one of Donnie's vacuum sealed pounds of product that was still being circulated, even though he had already stopped growing it, after serving a state sentence and had gone back to farming everything from sod to cabbage and watermelons. That was the year that a young woman from Delaware with ALS named Cathy Jordan came to visit a friend at Manatee Beach. She planned to save up her muscle relaxant pills in the warm Florida weather so that she could overdose with them when she got home, only to discover that smoking Myakka Gold stopped the course of her disease and made her want to live again.
Segue to 2018, and Donnie has been robbed again, but this time, it is his legacy, the thing for which he almost spent the rest of his life in prison.
"They never talked to me. They never even called me.," Donnie said. The Feds destroyed every bit of what he had, down to the seeds. "Besides, I saw that description on the internet. First thing that hit me was that they say it's an indica(hybrid). It was not damn indica! It was straight sativa!" And as far as the terpene profile, that mixture of organic chemicals that give the plant its unique taste, smell and effect? According to Surterra, their Myakka Gold has a, "unique terpene profile of low Myrcene, and high limonene gives it characteristics of Sativa. It also has a high percentage of Caryophylene thanks to its Indica parents. This Florida Original has a complex pine and berry aroma". According to Donnie, "Nah".
An unexpected visit with unexpected results
Donnie recalled in his book, "The Donnie Clark Myakka Gold" that day in 1990 that his friend manatee County Sheriff's department Lieutenant Johnny Potts served him the subpoena to come to the federal court in Tampa. "Because of a new law they passed in 1987, they can give to 25 years to life!" Johnny told him. Donnie laughed and replied, "Johnny, I could shoot you dead and not that much time."
The book has a copyright, but he never trademarked the strain he created, since it was illegal when he cultivated it.