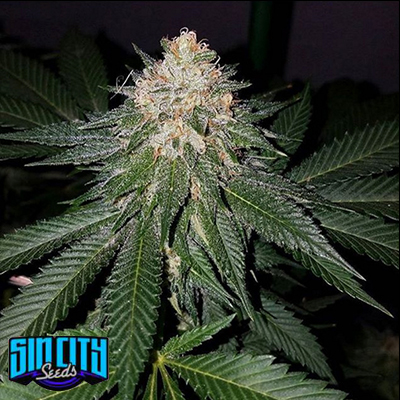 If you want to be notified when this product comes back into stock, please enter your email address below:
Please be aware that you will need to confirm your submission.
A verification email will be sent to you to confirm your email address.
If you have not recevied an email within a few minutes after your submission, please check your SPAM/Junk folders.
Lemon G the pride of Ohio, representing the Midwest among all the Dutch and West Coast strains out there. Potent, well-focused and even, this sativa hybrid is a daughter of Original G13. As this is not a pure sativa, relaxing indica effects tend to show up first after consuming Lemon G. Over time, however, the upbeat, euphoric, and giggly sativa effects begin to emerge. Lemon G is a sociable strain and, as the name suggests, has a strong lemon fragrance. Taste-wise, this strain is fairly mellow and does not necessarily exhibit the strong citrus properties found in its scent. SinMint Cookies has potent, frosty and flavourful nugs with improved never before seen variations of the beloved Cookies. using the "forum cut" GSC Sin City Seeds have created the new and improved cookies hybrid. Everything that you love from the GSC but with more potent and faster flowers and increased flavours.