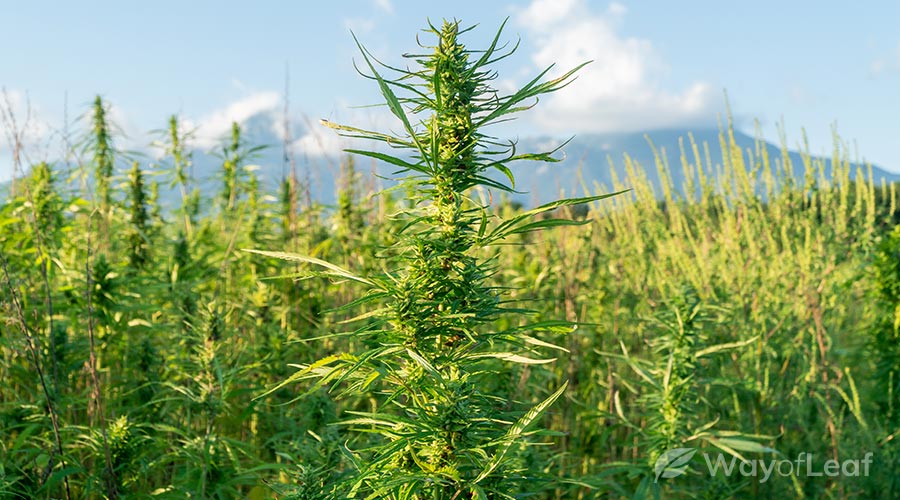 The third option is to try and claim the plants. This is another decision fraught with legal jeopardy. If they are not ready to harvest, you have to tend to them. This is illegal in practically every state unless you have an exclusive grower's license. Even in legal states, growing is only allowed in a private space. Tending to these plants requires being outdoors in a public space, an illegal act.
First and foremost, you must understand that what you, Miss Marple, have uncovered, is called 'ditch weed' in the U.S. Known as wild marijuana or feral cannabis, it is usually descended from industrial hemp plants previously grown for fiber. The DEA says ditch weed is wild scattered marijuana plants with no evidence of tending, fertilizing, or planting. By the way, cannabis technically can't be 'wild' in America since it is not a native species here. The correct term, in this case, is 'feral.'
However, this carries potential legal issues. There is a possibility that local police are well aware of the cannabis, and are watching out for people stealing it. While there probably isn't an officer hiding in the bushes, you could find yourself in a police car. There is also a chance that the cannabis is part of an illegal growing operation. Once again, there is likely someone watching the crop. If they catch you taking some, the police will become the least of your worries.
Anti-marijuana campaigners will wince when they hear how widely weed grows around the world. It is illegal in the mountain nation of Bhutan, yet thrives on rooftops! In countries such as Jamaica and Mexico, the heat and humidity mean fields of cannabis are in an enormous number of places. You can find feral marijuana in dozens of countries around the world.
The Cannabis Is Beckoning Me! What Do I Do?
Some claim that people get hemp mixed up with ditch weed. It is an easy mistake to make; even the police find it hard to differentiate. These individuals assert that you will get high if you smoke enough feral cannabis. The amount you need depends entirely on your tolerance level.
If you have a car and time to kill, locating feral cannabis doesn't take a great deal of detective work. Travel to the states we mentioned above, and cruise the roads for a while. Soon enough, you will find what you're looking for. It isn't unusual for ditch weed to reach a height of nine feet, so it will easily stand out!
Attempts to eradicate ditch weed have proven futile. The FDA's Herculean efforts only removed a fraction of what is growing wild. Remember, the seeds can lay dormant for a decade. Traipsing through fields and chopping down the growing cannabis plants doesn't solve the problem at all. In Indiana, a police spokesperson said: "You can eradicate ditch weed as well as you can eradicate dandelion."
What Have I Found? Is It Cannabis?
As far as the time of year goes, you are better off waiting until the fall season. It is at this stage that most cannabis plants flower outdoors.
First of all, you need to gauge how mature the plants are. If they are in the vegetative stage, there is no point in taking any home. These plants are several months away from producing usable buds. If they are tall and producing nugs, you have the option of taking a few free samples home with you.
The two-foot high plant was discovered on a sandbank at the mouth of the River Doon, Ayr.
Experts have described the find as "very rare indeed" and police say they have never come across anything like it in the area.
"It would have germinated early in the season and grown all year undisturbed.