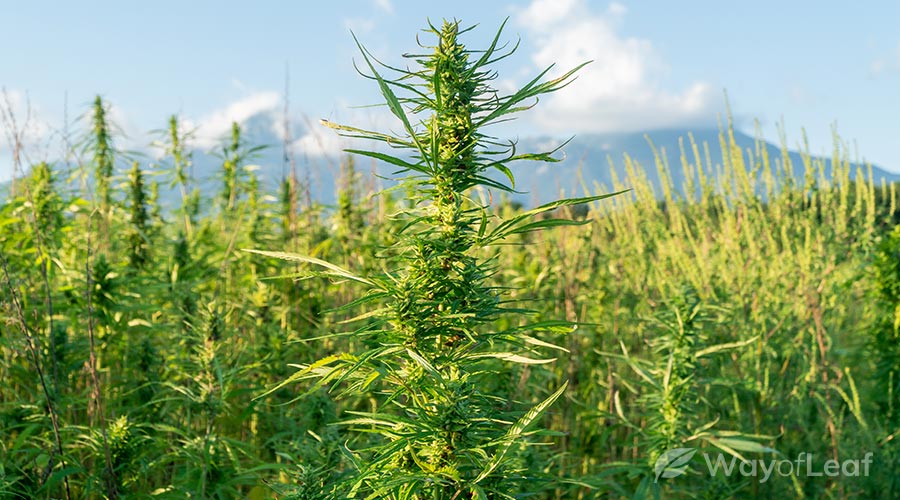 Take a trip along the roads of Nebraska, Kansas, and Iowa, in particular, and you will see miles of cannabis growing naturally. In the likely event that you find some, your first thought is probably to fill up your car with the stuff! Think about it; you could easily bring thousands of dollars' worth of it home.
The final, and most sensible option, is to admire the plants and go on your way. Take a few pictures to show your friends, but make sure you don't take any weed with you! If the plants are growing miles away from civilization, you can forget about them with a clear conscience.
What About Wild Marijuana in America?
Some claim that people get hemp mixed up with ditch weed. It is an easy mistake to make; even the police find it hard to differentiate. These individuals assert that you will get high if you smoke enough feral cannabis. The amount you need depends entirely on your tolerance level.
Attempts to eradicate ditch weed have proven futile. The FDA's Herculean efforts only removed a fraction of what is growing wild. Remember, the seeds can lay dormant for a decade. Traipsing through fields and chopping down the growing cannabis plants doesn't solve the problem at all. In Indiana, a police spokesperson said: "You can eradicate ditch weed as well as you can eradicate dandelion."
The Cannabis Is Beckoning Me! What Do I Do?
Picture the scene. You are wandering down a highway when, suddenly, you see a group of plants that appear different to the rest. Your brain is telling you one thing, but you refuse to believe it is your lucky day. A sudden breeze arrives, causing these plants to sway majestically. You edge ever closer, the level of anticipation growing. YES! You have stumbled upon cannabis growing naturally in the wild. Time to light up! Or is it?
In Canada, winters are a bit harder on wild cannabis, and the country doesn't have the same history of large-scale hemp cultivation like in the U.S. Nevertheless, according to a 2002 paper by Agriculture and Agri-Food Canada , all of Canada's 10 provinces can count a few patches of tough, weedy cannabis.
Feral cannabis is even rampant in North America. Although the plant is not native to the Western hemisphere, wild cannabis has either escaped from early 20th century industrial hemp farms or has been intentionally sowed by marijuana activists. Ironically, it seems to thrive best in conservative states like Iowa, Nebraska or Kansas, where marijuana prohibitions are some of the strongest in the United States.
"I even found a beautiful little plant with purple-tinged buds growing among the yarrow and dandelions in front of a doughnut shop," he wrote .
Wild cannabis is usually referred to in the U.S. Midwest as "ditch weed." Much like its feral cousin in Asia, however, ditch weed usually contains too little THC to get high – although it can be crossbred with peppier domestic strains in order to yield more resilient marijuana.
Article content
The sight isn't all that uncommon in the land of Mount Everest. Cannabis is indigenous to the Himalayas, and while the plant is illegal in both India and Nepal, it thrives in the hard-to-reach corners of the famed mountain range. Several Himalayan villages also make their living on the production of cannabis, and when busted by authorities they can plausibly claim that their cannabis fields are natural.
In neighbouring Afghanistan, the ease of growing weed in the local soil (as well as the country's chaotic political situation) is partially how it became the world's largest supplier of cannabis in 2010 .
In a viral 2016 YouTube post, travel blogger Gabriel Morris revealed a hillside covered with marijuana plants in the Nepalese Himalayas.
Advertisement
Marijuana can be found growing wild throughout northern Pakistan, where an unmolested cannabis bush can grow as high as a one-storey building . As with a lot of the world's indigenous wild cannabis, however, these plants are generally quite low on THC and have little to no hallucinogenic effect if consumed.
In Britain, at least, wild pot has begun to return. A group calling itself "Feed the Birds" has begun sowing cannabis seeds into English gardens and planter boxes, with the result that cannabis can now occasionally be seen growing within sight of U.K. landmarks like the The Shard skyscraper.