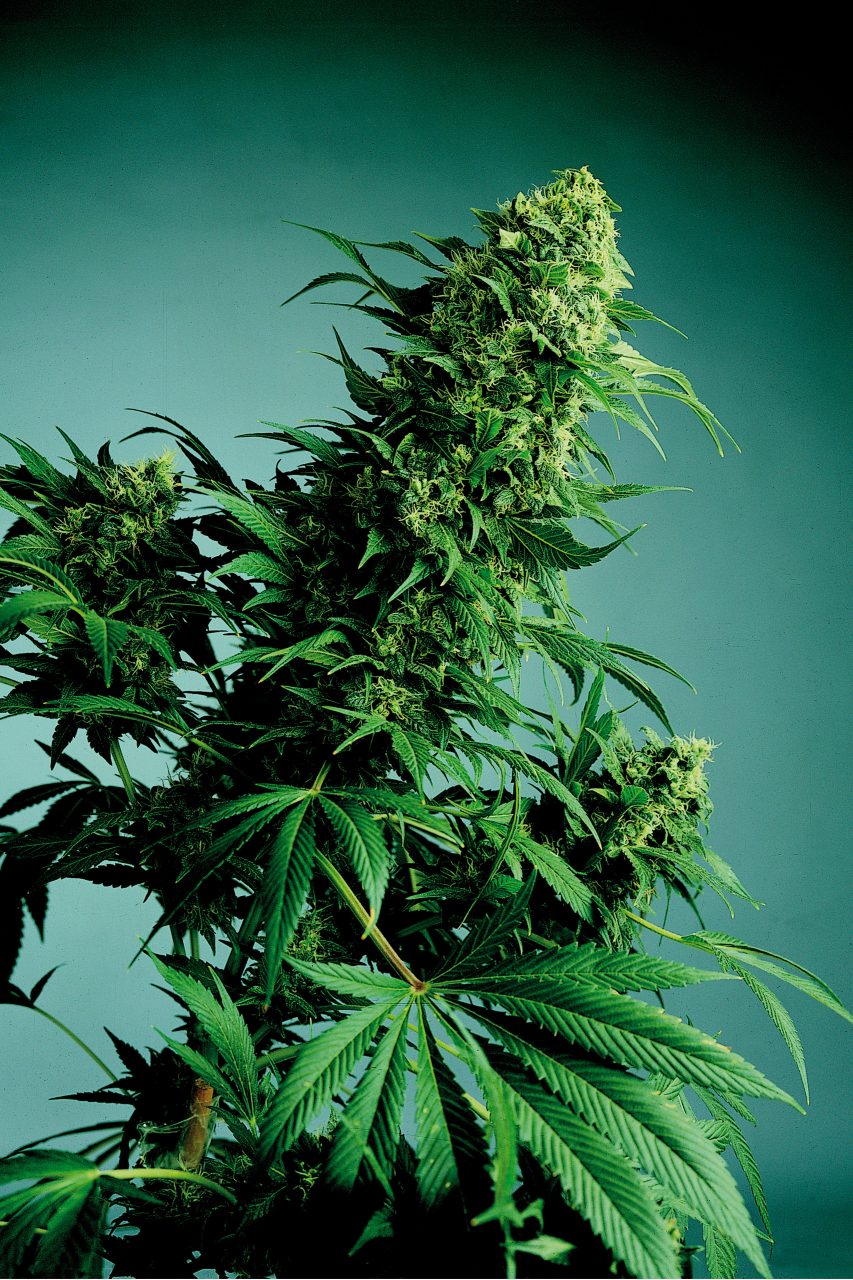 Vegetation occurs when the plant experiences long days and short nights, known as the long photoperiod. When growing, Cannabis Indica devotes its energy to increasing in size and stature. As days become shorter and nights longer (the short photoperiod), the plant receives the signal that autumn is approaching and its flowering phase is triggered.
In the flowering phase, upward and outward growth slows considerably and may appear to cease completely as Cannabis Indica directs the bulk of its energy to growing reproductive parts – male flowers which distribute pollen, or female flowers which produce the majority of cannabinoids and are meant to receive pollen and produce seeds. If male plants are eliminated early in the flowering phase, female plants are prevented from making seeds and their cannabinoid-rich flowers (also referred to as buds, tops or colas) may be harvested for recreational and medicinal use.
The typical example of Cannabis Indica is a more compact, thick-stemmed bush than its cousins, usually reaching a height of less than two metres. The foliage is generally a dark shade of green, some examples appearing to have almost blue or green-black leaves. These leaves are composed of short, wide blades.
General physical appearance of Indica Strains
Indica strains tend to produce more side-branches and denser overall growth than Sativas, resulting in wider, bushier plants. Indica flowers form in thick clusters around the nodes of the female plant (the points at which pairs of leaves grow from the stem and branches). They usually weigh more than Sativa flowers of similar size, as they are more solid.
Most Indicas are a rich source of the cannabinoids THC, CBD and CBN. While Cannabis Sativa often produces a higher proportion of THC compared to its other cannabinoids, Cannabis Indica often contains significant levels of all three. Indicas tend to produce more body-centred effects than Sativas – enhancement of physical sensations, relaxation, dry mouth, red eyes. These effects are often grouped together under the term 'stoned', as opposed to the 'high' imparted by Sativas. This is not to say that Indicas have no psychoactive effect, just that they are more renowned for their noticeable effects on the body.
The life cycle of Cannabis Indica, like the rest of the Cannabis genus, is divided into two distinct phases – vegetation and flowering – which are reactions to different day-lengths (photoperiods). Vegetation is also sometimes referred to simply as the growth, or growing, period, although the plant continues to grow in size and mass throughout the flowering period as well.
Growth and flowering cycle of Cannabis Indica
French naturalist Jean-Baptiste Lamarck, the first European botanist to classify this type in 1785, received his samples from India and dubbed the plant Cannabis Indica in recognition of that fact.
Cannabis Indica strains are cultivated almost exclusively for their medicinal and psychoactive properties, and may be the most commonly used medicinal marijuana strains. Cannabis Indica's firm stem and thin bark make it unsuitable for fibre production.
Indica strains flower more rapidly than sativa, forming flowers after seven to nine weeks on average. They continue flowering for up to twelve weeks. Many indica slow their upward growth as they begin flowering, and instead become bushier, with branches and leaves fanning out. Their life span is three to four months.
Flowering occurs when the days shorten, or when the plant receives 12 hours or less of continuous daily light. You can force flowering by reducing the hours of light exposure or photoperiod, signaling to the plant that the nights are becoming longer.
Indica buds are tightly packed and tend to grow in a more chunky formation than those of sativa. Indica trichomes that are ready to harvest can take on a milky-translucence as well, but often appear more amber in color.
For those who regularly use cannabis for therapeutic or recreational purposes, the notion of cultivating plants for personal use may be appealing. Growing cannabis can be straightforward, but as with most crops, yield and quality can be improved with awareness of the plant's life cycle and growth requirements. When it comes to growing cannabis, the first decision is to determine whether to cultivate indica or sativa plants.
Flowering
The sativa vegetative period starts slowly, with the stem elongating more rapidly later in the vegetative cycle. The stem of the sativa plant is fibrous rather than woody, and the leaves develop as narrow fingers. Throughout the duration of the vegetative cycle, seven to twelve leaf pairs form in a certain pattern . The first leaf pair comprises a single leaflet. The second pair has three leaflets. The third pair has five leaflets, and so on. Sativa uses less chlorophyll during the vegetative cycle than indica, resulting in light-green leaves.
The vegetative phase is characterized by the growth of the stem and leaves. Photo by: Gina Coleman/Weedmaps
When the beginnings of the tap root and a leaf or two appear, the seedling can be carefully transplanted. Both indica and sativa plants require special care and benefit from proper soil composition, climate control, and lighting as they are establishing root systems. The seedling stage lasts from 1-3 weeks.
Image lightbox
Sativa cultivars are not ideal for home growers hoping to cultivate indoors, or within a restricted space. These plants generally require balmy temperatures and relatively high humidity where they thrive when given have space to grow.
Indica plants were originally found in unforgiving dry and colder Asian climates, which resulted in their robust and more compact physical profile. Their short stature makes them ideal for indoor cultivation.