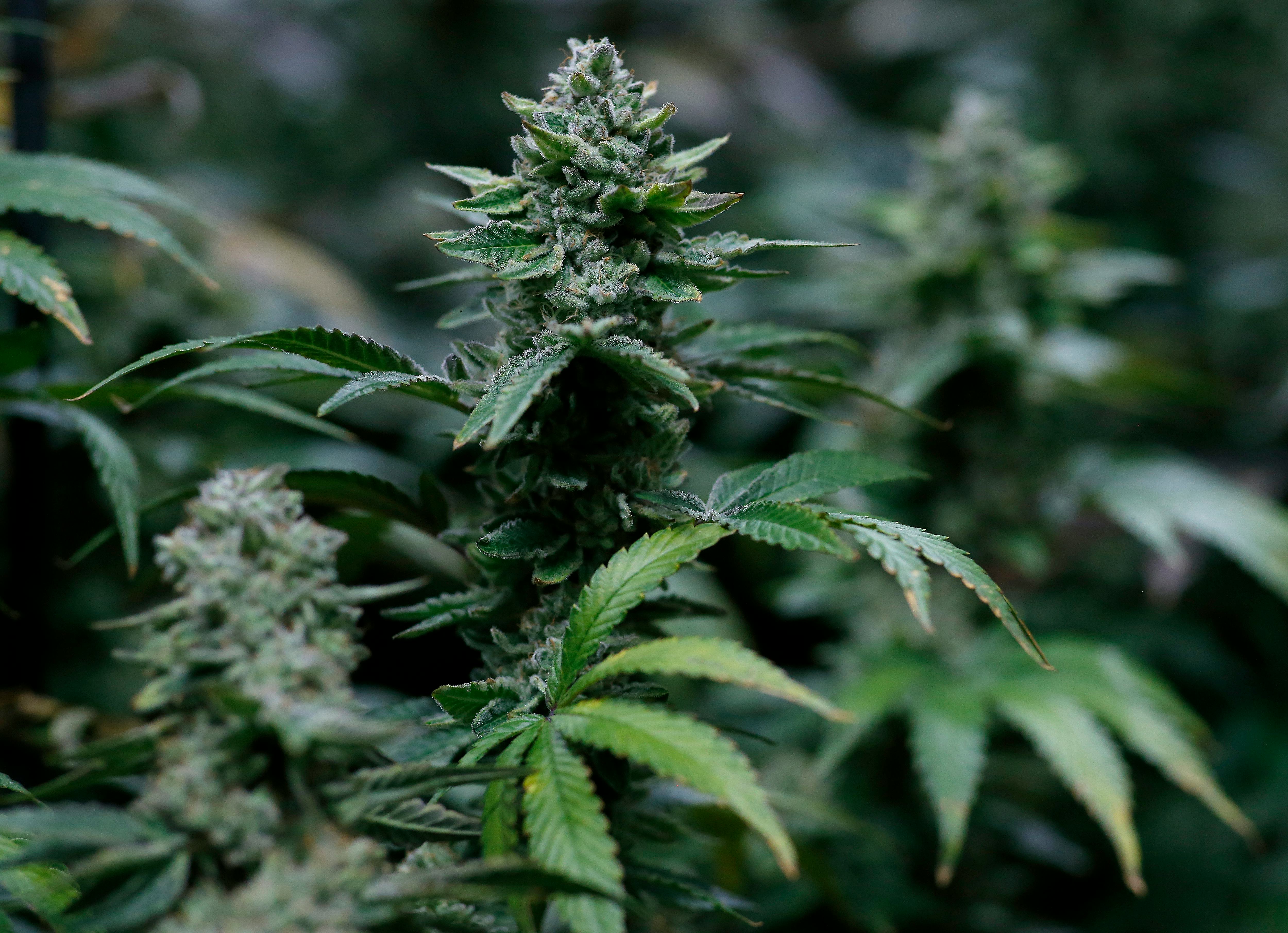 Your cannabis will be ready to harvest at around October. You'll know they're ready when the buds "start to get really, really swollen and packed pretty tight," Johnson says. But it can be hard to tell if you're a beginner. Many growers say that if you think your plant is ready to harvest, wait two weeks, since many newbies tend to harvest too early. Or, you could share a photo of your crop on a forum and ask more experienced growers to weigh in.
Since clones come from plants that have been grown indoors, let yours chill in a shaded area for a week before exposing them to full sun, Johnson says. "The clone hasn't tasted sun like that, and the transplant itself will be stressful."
If you use organic soil, all you'll really need to do is add water, Johnson says — but don't overdo it. The number one mistake he sees new growers make is watering their plants too often. In general, "watering every day is too much. The rule is, if you pick up your plant, and the pot is heavy, then it has a enough water. If it's light, it's dry, then you need to water." You could also stick your finger knuckle-deep into the soil; if it feels dry, add water.
Whatever you do, don't plant your clones in the ground. They'll run rampant, and "you'll have pounds of weed in your house," Johnson says, recalling the trays of weed atop his kitchen table when his crop grew wild. "You don't need the stress of plants getting out of control, growing over your fence." If your neighbors can see them, they might complain about them, and having too many plants could get you arrested.
Upkeep
To check if your cannabis is ready for trimming, perform a break test on each branch. If it bends so much it nearly breaks, then it's ready, and if it breaks right away, it might be overly dry, but still totally usable. Trim off the buds and seal them inside a mason jar for curing, opening it periodically over the course of about four weeks to let moisture escape. Johnson outlines a detailed schedule on his website, including instructions on how to look for mold.
Johnson notes that the outdoor grow season lasts from around April to October, meaning if you plant seeds now, they'd still yield flower, but not much. Since it's late in the season, he suggests buying a large clone, which will have more branches and therefore yield more flower.
When the pandemic hit, many of us turned to quaint pastimes to soothe our existential dread, whether it was baking sourdough, knitting, or doing jigsaw puzzles. If you want to expand your repertoire of distraction methods with an activity that still has that quiet, homey vibe, but with a bit more of an edge, consider growing your own weed.
Planting
Cannabis plants can be either male or female. Female plants yield the plump flowers, a.k.a., "buds," that we know and love, brimming with psychoactive compounds like tetrahydrocannabinol (THC, which gets you high), Modern Farmer explains. Male plants yield much smaller flowers, which people typically don't consume. In other words, if you want to actually indulge in your crop, you'll want female plants.
If you buy seeds from a seed bank, look for those labeled "feminized" to ensure they give rise to female plants, Johnson says. But if you're a total newbie, he suggests buying clones, which are cuttings from a "mother" female plant, available at some dispensaries, as well as at nurseries. Not only are they easier to obtain, "they're easier to grow. You get a clone, and you transplant it to some soil."
Garden plot: Probably the most common outdoor growing spot, many will plant cannabis alongside other growing veggies.
You can plant directly into the ground, using the preexisting soil, but you'll need to understand your soil's composition and amend it accordingly. If you go this route, we recommend getting your soil tested, which will minimize headaches, and it's easy and relatively inexpensive. A soil test will tell you the makeup and pH of your soil, any contaminants present, and will recommend materials and fertilizers to amend your soil.
Types of outdoor grow spaces
Sandy soil is easy to work, drains well, and warms quickly, but it doesn't hold nutrients well, especially in rainy environments. You'll want to dig large holes for your plants and add compost, peat moss, or coco coir, which will help bind the soil together.
You may need to put all of your plants in containers if you don't have great soil. Also, if you're unable to perform the heavy labor needed to dig holes and amend soil, containers may be the only way for you to grow your own cannabis outdoors.
Silt soils
Don't underestimate the therapeutic value of gardening. It's relaxing to spend some time outside, roll up your sleeves, and get your hands dirty for a while. And there's nothing better than smoking something you grew yourself.
Cannabis requires more nutrients than many of the other plants you may have in your garden. Quality soil contains enough organic nutrients to start the growth cycle, but as your cannabis plant grows and transitions into flowering, it may deplete the available nutrients and require additional fertilizers.
The three primary nutrients required for cultivating marijuana are nitrogen, phosphorus, and potassium.
Most cultivars will begin to flower once they receive fewer than 15 hours of sunlight per day. The latitude of your garden has a direct impact on how many hours a day your plants receive light.
Image lightbox
Plants grown from seeds are typically heartier and more vigorous than clones, as they produce a sturdier taproot that clones are not able to replicate. The vigor that comes from deep roots can be an advantage when dealing with harsh environmental conditions and pest pressures. The disadvantages of growing seeds are the additional attention required to germinate the seeds, the necessity to eliminate any males before they pollinate the females, and the high variability in growth characteristics that results from their genes.
In the Northern Hemisphere, cannabis can be planted in early to mid-spring and harvested in mid-fall, depending on the cultivar. In the Southern Hemisphere, the growing season will be reversed with planting in early to mid-fall and harvesting in the middle of spring.
Soil
Beneficial insects, fungi, and bacteria can also be used to protect your plants from their parasitic or predatory counterparts. Jumping spiders, ladybugs, and other native, beneficial predatory insects can clear your crop of insects such as aphids and whiteflies. When sourcing beneficial insects, fungi, or bacteria, it's important to research those which are native to your region.
Cannabis has been cultivated outdoors for thousands of years, but before you go putting a seedling in the ground, it's best to know how the process works and how to make the most of Mother Nature's gifts. You should also have some idea of how to handle those unwanted gifts you'd rather return — pests and weeds.