To maximize the THC of your plant, you need to make sure that you are taking care of it. Avoid common mistakes like overwatering/underwatering, heat stress, root problems, irregular light cycles, and nutrient issues.
The first step after harvest is to dry your buds thoroughly. The best drying environment is a room at a temperature of 70 degrees Fahrenheit (21 degrees Celsius) and 50% humidity. After you cut down the plant, trim any extra leaves, and hang the buds to dry. After 4-10 days, test the buds. If they feel dry and the stems are capable of snapping, it is time to cure your herb.
There are lots of different reasons why people want to increase the level of THC in their buds. Some do it for medical reasons, while others do it for the high.
Hack 3 – Your Plants Health
Here are a few of the main reasons for boosting a crop's THC content:
Take a close look at the leaves because they can tell a story of two. If you are an inexperienced cultivator, you may miss the signs:
Hack 5 – The Curing Process
Next, place them in mason jars. Open the jar several times a day for the first few days. Once your buds feel a bit sticky, they are probably in the 60-65% humidity range, which is perfect for curing. After a week or so, when the buds no longer feel moist, it is only necessary to open the jars once every few days.
Experts suggest that your buds will improve in quality, and arguably potency, for up to six months while curing. At this point, further curing is unnecessary, and you should prepare your weed for long-term storage if you don't intend to use it.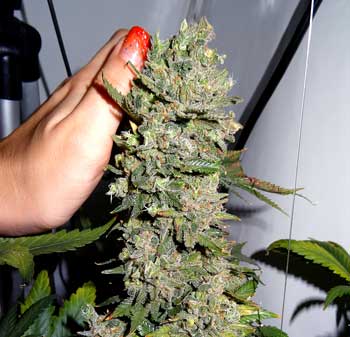 Most white pistils have darkened and curled in (bud looks more "solid")
Harvest Time
Although there is no evidence that the curing process (jarring up buds after they've dried) increases THC levels directly, there is a lot of evidence that it increases the perceived potency of buds.