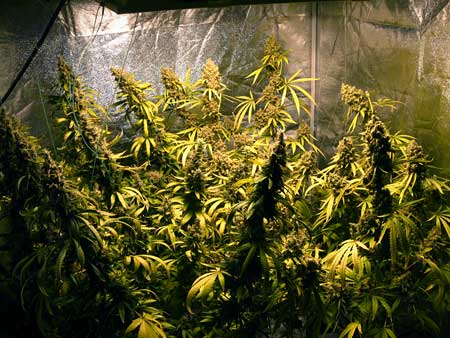 A too-tall plant isn't a big deal if it fits in your grow space, but the extra lower growth that doesn't produce bud is essentially a waste of electricity, time and money, since you potentially could have shaved weeks off your vegetative stage without sacrificing yields!
Examples with Common Grow Lights
This marijuana plant got excellent yields for its size under a 600W grow light, but notice how the buds are thick all the way down. This is a clue that this plant likely would have produced more if it'd been allowed to get a little bigger before switching to the flowering stage – you can see the buds "want" to go down further than the bottom of the plant. Additionally, there is empty space behind and to the left side of the plant. If the plant had been trained to grow wider in the vegetative stage, those empty spots would be full of colas, too!
So What's the Best Plant Height?
In addition to the height, the overall size/mass of the plant has a big effect on final yields. A bigger plant can simply support more and bigger colas. Because of that, it's good to build up overall plant size as opposed to just height to maximize yields. You want plants that are wide and flat like a table, not tall and skinny!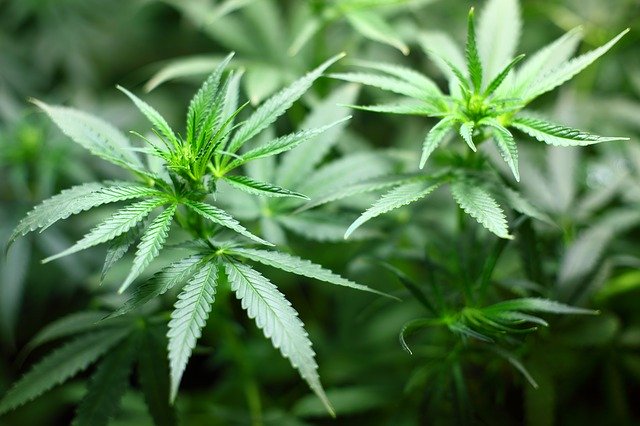 Cannabis growth is made up of a series of stages that plants undergo during their lifecycle. Each stage during the cannabis cultivation process requires its own unique demands, including different levels of light, water, and nutrients.
1. Germinating Seeds
The quality of your plant depends on your knowledge of the cannabis growth stages and the lifecycle of your plants.
2. Seedling Stage
Female: Two pistils (the pistil contains the reproductive parts of a flower) will be growing on the buds (flowers grow above these leaves, one cluster on each side).