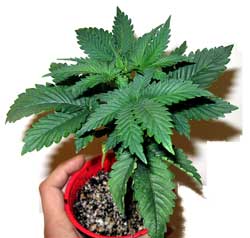 Every grower will run into a growing problem some time or another. It can be tempting to stop documenting your grow because your plants don't look as good as they used to.
1.) The best way to learn how to grow is to just start growing
Many nutrients are overpriced for the benefits you'll get, especially nutrient systems that target cannabis growers. For first-time growers, you'll often get better results for less money by sticking to a simple nutrient system from a trusted nutrient company like General Hydroponics or Fox Farm. These companies provide relatively inexpensive nutrients, but they work great for growing cannabis.
8.) The strain you grow makes a HUGE difference in your results
Once you grow in a tent, it's hard to go back to anything else.
There are two types of plants a grower might consider: autoflowering varieties or photoperiod varieties. Photo by: Gina Coleman/Weedmaps
Bottom line: Sunrooms, rooms with lots of southern-facing windows, and bay windows are all great spots for indoor cannabis plants. Aim for at least six hours of direct sunlight per day.
Image lightbox
Be a good plant parent. Keep an eye on its growth and development. Trim yellowing or dying leaves that often present at the bottom of the plant when they get shaded by the top canopy. Keep an eye out for insects and act quickly when you see them, then continue monitoring closely because pests and disease can be persistent and difficult to get rid of.
Experience is the best teacher when it comes to growing cannabis. Photo by: Dimitri Newman/Weedmaps
Make sure your cannabis plant gets enough light
Photoperiod plants need to follow a specific light schedule, particularly during the flowering period. These plants need 12 hours of complete darkness to induce flowering and throughout the flowering phase until harvest. "If you can't get the environment dark enough, that plant is just going to keep on growing and might get too big for the space you have," added Jimmy. Our homes are full of light, so to assure the darkness needed to induce flowering, put the plants in a closet each sundown and back out in their window each morning.