Greenhouses also offer growers the ability to harvest more than once per year, if they are equipped with a light deprivation system. These systems allow growers to control the hours of sunlight their plants receive, much like turning lights on and off in an indoor garden, by covering the greenhouse with a black tarp that deprives the plants of sunlight.
When possible, use natural structures and formations in your garden as windbreaks to prevent excessive stress on your plants that could lead to branches breaking.
Daytime temperatures between 75 and 85 degrees Fahrenheit (23.9 to 25.4 degrees Celsius) are ideal for cannabis, while temperatures above 88 degrees Fahrenheit (31.1 degrees Celsius) or below 60 degrees Fahrenheit (15.6 degrees Celsius) can delay growth. Cannabis is considered heat-tolerant, but sustained highs and extreme lows will usually lead to complications that could eventually kill your plants.
During the vegetative phase, plants need more nitrogen in order to create the roots and leaves that serve as the base for flowering. During the start of the flowering cycle, the plants will require more phosphorus and potassium than nitrogen. Towards the end of the flowering cycle, once the majority of the nitrogen has been depleted, the plants will focus their attention on using the remaining nutrients. The lack of nitrogen is largely responsible for the vibrant purple and orange hues that can be seen on large fan leaves and throughout the plants' colas.
Security
Quality soil is crucial to the success of your crop and one of the few factors that you have control over when growing outdoors.
Depending on your location, you may need to plan for rain. In most regions, the rainy season is typically aligned with the end of the flowering stage and the start of the harvesting period, but this may not always be the case. Rain can be detrimental to an outdoor flowering crop so being prepared to cover or move plants can help ensure a successful harvest. If it does rain on your plants, make sure to immediately shake off any excess water, as lingering moisture can lead to the formation of mold and nobody likes moldy weed.
There are also many advantages and disadvantages of using clones. They can often be found at your local dispensary, are from a proven genetic lineage, and typically do well outdoors, making them the perfect choice for inexperienced growers. On the other hand, clones develop a fibrous root system, as opposed to the deep taproots that seeds develop. Fibrous root systems can reduce the plant's ability to deal with environmental stress and predatory insects.
Light
Container gardens can be convenient as plants can be moved around the garden to maximize sunlight or protect them from harsh conditions such as rain, heavy winds, or extreme temperatures.
The amount of water a plant needs largely depends on its size, the size of its container, the soil type, and general environmental conditions such as the weather and the intensity of the sun. Larger plants in warmer environments tend to use more water than smaller plants in cooler weather. The amount of water needed will change throughout a plant's life cycle.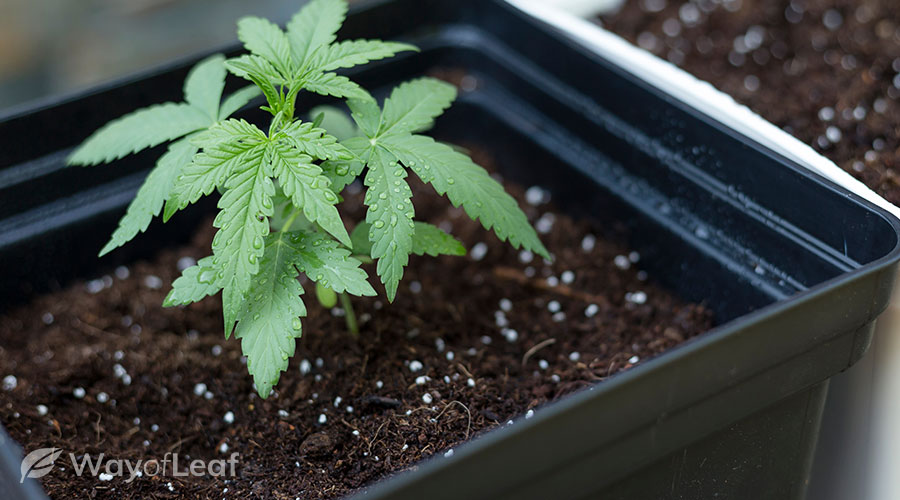 Take note that growing the weed in containers will impact the size of the plant. Container-grown marijuana will be smaller because root growth is restricted. In other words, the size of the container determines the size of the plant.
There's no doubt that growing marijuana outdoors comes with challenges (which we address later on), but it also has a list of cool benefits:
EDITOR'S CHOICE – Homegrown CannabisCo
Although it's possible to purchase high-quality weed from a dispensary, there are few things more thrilling than growing cannabis outdoors.
It is best to maintain the temperature between 55-86 degrees Fahrenheit for as much of the growing cycle as possible. Marijuana plants can survive outside this range for short periods.
Step #1: Determine the Climate in Which You're Going to Grow the Marijuana
It may also be worth investing in wire cages to keep animals at bay. As already mentioned, some plants often grow over six feet tall. However, some plants, when grown outdoors, can become so tall that they resemble mini-skyscrapers. These plants can sometimes be over twelve feet in height, so make sure you plan for this.