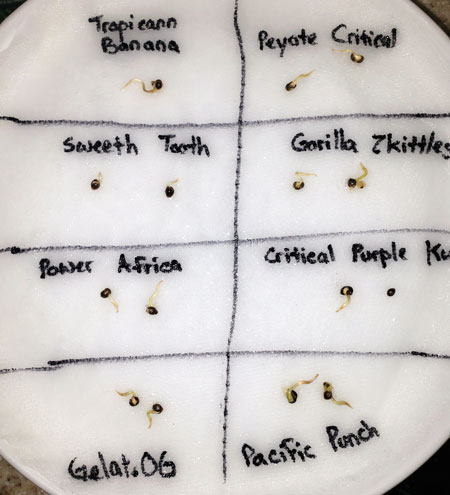 If there's a short root or seedling hasn't germinated yet, put the paper towel back and gave the seedling one more day. Seedlings grow faster if they have a bit more root before being planted.
This Critical Purple Kush seed took an extra day to germinate compared to the other seeds. I gave it one more day after this so the root could get longer before I put in a Rapid Rooter.
4.) Cover with 1 Sheet of Paper Towel
Put into the Rapid Rooter tray (make sure they're moist all the way through!) The bottom shell of the tray will hold extra water so plugs don't dry out.
Move the grow light down to the standard distance once the plants have 3 sets of leaves. By now they should be growing fast!
3.) Add Water & Seeds
Within a day or two under a light (or in a sunny window), you'll have a bunch of happy seedings!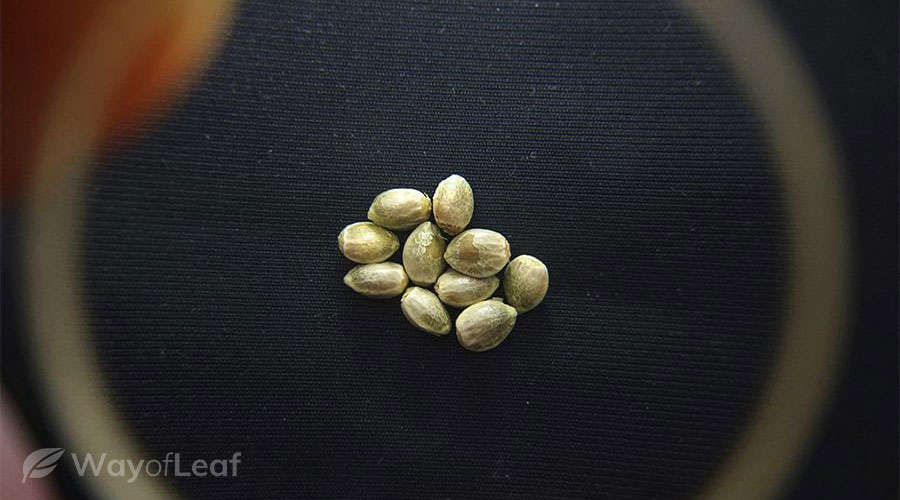 You don't have to plant germinated seeds too deep in the soil, or whatever growing medium you choose. 0.5" – 1" below the surface is plenty. Point the white root downwards into the earth to ensure the seedling is ideally oriented.
For the first few days, use a spray bottle to water the seeds, because adding too much water can drown them. It is worth investing in a pH meter to test the soil regularly and make sure it has enough moisture. If all goes well, the seed should sprout from the earth within a week. If it hasn't sprouted within ten days, it will probably die.
Are Your Seeds Good or Bad?
In theory, germinating cannabis seeds is a simple affair. They only need three things: Air, water, and heat. The famed 'paper towel' method is incredibly easy as long as you follow the steps outlined below. Here is a quick overview of the best germination practices before we show you the various methods.
5 – A Germination Station
Inevitably, some will fail, while others will flourish. You will have seeds that pop fast and proliferate. Don't be disappointed if you have a few failures because that's part and parcel of the growing process. Even when you get everything right, you will inevitably lose a few seeds, and it won't be your fault!