As the name suggests, autoflowering marijuana strains flower automatically rather than waiting for a specific light cycle. These plants produce buds when they are ready, which means there is no reason to mess with your lighting.
Your Exclusive Autoflower Grow Guide
Quick One Auto's creators didn't take too long to decide the name of this autoflowering strain! It was one of the first members of the Royal Queen Seeds collection and is a cross of Northern Lights, Ruderalis, and The Williams Wonder. It contains 30% ruderalis, 60% indica, and 10% sativa genetics.
The Pros and Cons of Growing Autoflowering Cannabis Seeds
As autos contain ruderalis genes, they are more robust than other marijuana plants. Remember, they are based on plants that could grow in harsh Russian weather conditions. A typical cannabis plant will have its flowering and growth phases interrupted if there is a power outage. This fact could play havoc with their growth cycle. You don't have this problem with an autoflowering plant.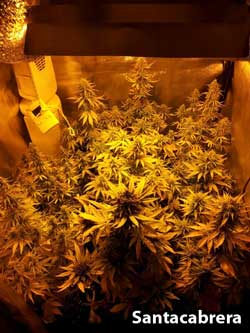 Most indoor growers report getting great growth rates when keeping light schedules on an 18/6 light schedule (18 hour of light and 6 hours of dark each days). 20/4 is another popular light schedule for indoor auto plants. Some growers will give 24 hours of light to auto plants, but others believe that auto plants develop better when given at least a few hours of darkness each day.
It's only until a few weeks before harvest that most auto-flowering plants stop growing "up and out." At this point, auto-flowering plants put all their energy into fattening buds, and buds can gain substantial weight during the last few weeks.

Bend too-tall branches down and away from the center of your plant
Which is more potent? What about smell and taste?
When training autos, the idea is to use bending to open up the plant so it grows flat and wide
In some instances, photoperiod strains of cannabis may be easier to grow indoors if you are a new grower because you can give yourself as much time as to fix problems in the vegetative stage. During this stage, cannabis plants are hardy and can easily bounce back from problems. Even if you make a lot of mistakes, you can still get big yields because unlike with autoflowering strains you are in control of when the flowering stage begins.
By living such a short life, Ruderalis cannabis plants were able to survive in Russia with short summers and extremely long winters. Unfortunately, just like other types of wild hemp, wild Ruderalis buds contain very low levels of THC. Wild Ruderalis plants were also very small and produced tiny amounts of bud, which might make them seem useless to cannabis growers.
Can I Top an Auto? (full article with instructions)
The final size of your auto plants is largely dependent on the strain you get. Some strains, such as Lowryders, have been bred to grow extremely short – less than 1-2 feet. Other strains can grow taller, up to 4 feet tall or even more.
How much cannabis can you grow from an autoflower seed/plant? Often around 50-100 grams is a typical result. Some customers who have grown them in Southern Europe have reached yields over 200 gram from a single outdoor autoflower. Indoors growers with good conditions yields can exceed 200 grams per plant. The most experienced growers using hydroponic grow techniques such as deep water culture with an optimized environment (including LED grow lights) can achieve 500-1000g of dried buds from a single auto plant.
Hello,
Frost can always be an issue indeed if you start growing outdoors to early. These days it hardly freezes in May but you should still be careful.
All plants that are in bloom will smell, but this is mostly during the last stage. If you grow an autoflower you will have a short period of time where you will smell the plant.
Greetings,
Joe
Dutch Passion
How big can autoflower plants get?
Autoflowering varieties have been especially important for outdoor growers. Normally cannabis is planted outdoors in the Northern Hemisphere around April and harvested around October. This gives a 6-7 month lifecycle when growing feminized photoperiod cannabis seeds. However some countries have summers that are too short to allow outdoor growing over this time period.
These days there is hardly any difference in quality between the normal photoperiod cannabis varieties and the best autoflower seeds. Some autoflowers can even reach potency levels above 20%. But do your research carefully. There are still plenty of low quality autoflower seeds available and the difference between the best autoflower seeds and the worst ones is significant. Choose a cannabis seedbank with a proven track record!
Where can I buy autoflower seeds?
Dutch Passion's auto flowering seeds have rapidly become best sellers. Many growers have found that the unique properties of autoflower seeds were just what they required. Easy, quick and convenient – try growing some soon!