At the nursery, we add a few hours of supplemental light with low-wattage LEDs in order to trick the clones into thinking it's endless summer and therefore keep them in vegetative phase. After about June 1st, you can plant a clone in your garden and it will grow normally, with no extra light needed. Before June 1st, you will need to add supplemental lighting for a few hours each evening (or early morning) or the plant will go immediately into flower and you'll end up with a tiny plant with one little bud on it. Supplemental lighting can be as little as a single low-wattage bulb on a timer next to the plant. You don't need expensive horticultural grow lights because all you're doing is tricking the plant a little.
Cannabis has been the subject of such intensive breeding that there are virtually no "pure" sativa or indica strains. Virtually all are hybridized.
Spacing
When provided proper care and large root space, outdoor, seed-grown plants can easily grow to be eight feet tall and equally broad. In some cases they can grow twice that size, all in one short season. Even for a beginning gardener, a well-cared for cannabis plant in a 20-gallon pot can still get four feet tall by equally wide, so plan your space accordingly.
Brown/gray mold, also called "bud mold" or "stem mold" is a systemic fungus that rots buds from the inside out. The best way to prevent it is to keep the plants from getting rained on during flowering phase and to provide extensive dry airflow. Once mold is identified in a bud, remove and discard the infested part and harvest the adjacent bud to limit the spread.
Along with seed-grown plants, we sell clones in 4" pots that are well-rooted and acclimated to natural light and air, so they are ready to plant in your garden straight from the nursery.
That said, all non-commercial cultivation for recreational use (called "adult use" in California) and medical use is subject to local regulations. Many cities and counties require permits even for personal use and many ban outdoor growing entirely, requiring you to grow indoors under lights. Check your locality's rules.
Others prefer starting from rooted cuttings, known in the industry as "clones". Clone plants start as small branches cut from a "mother plant" and rooted in trays indoors in a controlled climate under artificial lights.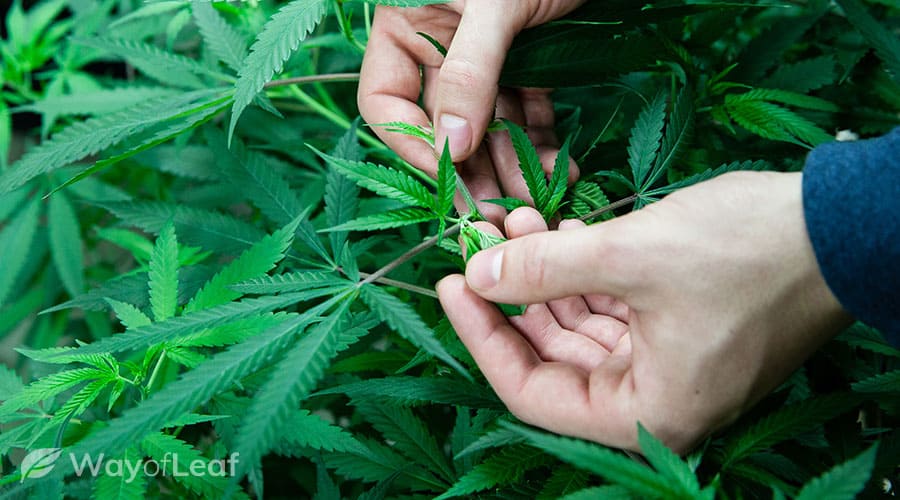 We are offering this guide with the assumption that it is legal to grow marijuana plants in your state. First and foremost, it is imperative that you have the right climate for optimum growth.
Step #1: Determine the Climate in Which You're Going to Grow the Marijuana
Having the ability to choose the right marijuana strain, the ideal location, and the best possible soil is one thing. Possessing the patience to see the entire project through is quite another.
Growing Marijuana Outdoors: The Beginner's Guide
Outdoor cannabis growers face a significant disadvantage compared to their indoor growing counterparts; outdoor plants are vulnerable to inclement weather. Also, plants grown outdoors are susceptible to attack from pests and pets. Rapid changes in the weather can damage or even kill cannabis plants, while animals and aphids are a constant threat.