1. Costly to build
Greenhouses intended for winter-use are built using heavy-duty materials that can cost a fair amount no matter how you go about it. Luckily, some of the cost can be mitigated by finding a used greenhouse online, or by opting for self-assembly rather than hiring a company to do the job for you, but to save money, it would be best to shop smart which takes time and effort.
Those with a greenhouse don't have to abide by such restrictive seasons that can be unpredictable at best, and since no one wants to lose a whole crop to good old mother nature, many cultivators opt for the protection of an outdoor greenhouse. That way, they can start whenever they want and harvest as it suits them rather than out of haste.
If you are interested in the prospect of growing marijuana in a greenhouse, then there are more things to consider than you might think, as it isn't all sunshine and roses once the setup is erected. There is plenty of hard work and financial investment required to make it really work in the winter, so it is important to consider all the pros and cons before delving in and getting started on building one of your own.
3. Enjoy growing marijuana all year long
Growing marijuana outdoors typically requires that the cultivator pay special attention to the time of year in order to get seedlings strong and ready for rooting in time. In Canada, the average growing season begins around the same time as veggies, which is the end of May or beginning of June, and most have crops harvested by October to avoid potential damage from ice-cold frost that can come in at any time.
Weed strains that thrive in colder temperatures
Advantages
Most experienced Canadian cultivators know a thing or two about growing marijuana outdoors, but until recently, a move so bold as openly growing or smoking weed would have been shunned and lead to arrest or fines. Now, due to legislation that came into effect on October 17, 2019, every household may grow up to four cannabis plants at any given time.
Though it's not quite what so many cannabis enthusiasts had hoped for, it's more than enough to grow a personal supply, especially with the assistance of an appropriate space that is dedicated to the cause. Unfortunately, with an ever-expanding population and shrinking living spaces, most do not have the luxury of an extra bedroom that can be converted into a grow room, and one solution to that issue is a greenhouse.
iStock / alisbalb
Luckily, even those who reside in townhouses have at least a small outdoor space that could hold a greenhouse the size of a small shed. It might not be big enough to throw a party in or to house a whole veggie garden, but it would be the perfect size for growing four or less cannabis plants.
If you want, you can make them flower whenever you want but you'll need to trick them with lights and timers. You can plant whenever you want but keep in mind that after 20 days of growing you'll need to block out the light somehow with a box, a cover or by sticking them in a dark room. They'll need 12 hours of light and 12 hours of darkness, so every day at 7am for example you'll need to take them out into the light and then at 7pm, stick them back into the dark. You'll need to keep this up for the entire rest of the process until harvest day. Make sure you don't mess up and forget once it's flowering or it will begin to revegetate and stop flowering completely, ruining the quality of the half formed buds that you'll end up with.
One of the most important things to keep in mind is that the temperature of the roots can't go under 16º or they'll stop absorbing nutrients, causing your plant to stop growing as much. Planting in flowerpots is not the same as planting straight into the ground; flowerpots are much more likely to get cold, whereas underneath the ground tends to be much warmer than above. Plants can but up with cold on their leaves as long as there's no frost, but if the roots get cold you can kiss your harvest good bye.
The first thing you're going to need to think about is how plants grow and flower according to the amount of light they receive, and when the days begin to get shorter your plants should begin flowering. This works the other way around too; if your plants are flowering when the days start getting longer they'll begin revegetating and they'll go back into the growth period.
Grow them indoors during September and half-way through October place them in a greenhouse.
Plant them later, meaning you'll need to trick your plants with the light period.
Germinate them in a greenhouse.
Here in Spain, the days begin getting longer on the 21 st of December, so you'll need to sort something out if you don't want a bunch of revegged plants. You can do a few things to prevent this:
In warmer places like here in Spain, growing cannabis during the winter time is quite common thanks to our favorable climate in many areas. It's quite a different way of growing, as your plants will need some special taking care of if you want to get a decent yield. In this article we're going to talk about the different systems you can use to get the most yield out of those cold winter months.
The most common winter grows are done in greenhouses. You can grow in flowerpots or straight into the ground because they won't be as cold in the greenhouse as they would be outdoors. You'll need to let them grow for around a month or month and a half indoors and then transplant your plants into the greenhouse where they can get a bit more heat at night time. You can also germinate them in the greenhouse from the get go around September, but your plants will definitely be smaller.
If you're not growing outdoors all you can do is grow under sodium lights, where your plants will develop ferociously and will give you an amazing yield in record times.
When plants are under lights they behave quite differently, because although it may be winter your plants are getting the summer sun every day. They have the perfect climate and you can adjust the parameters as needed. It's extremely hard to grow indoors during the summer without air conditioning, but it's perfect for growing in the winter.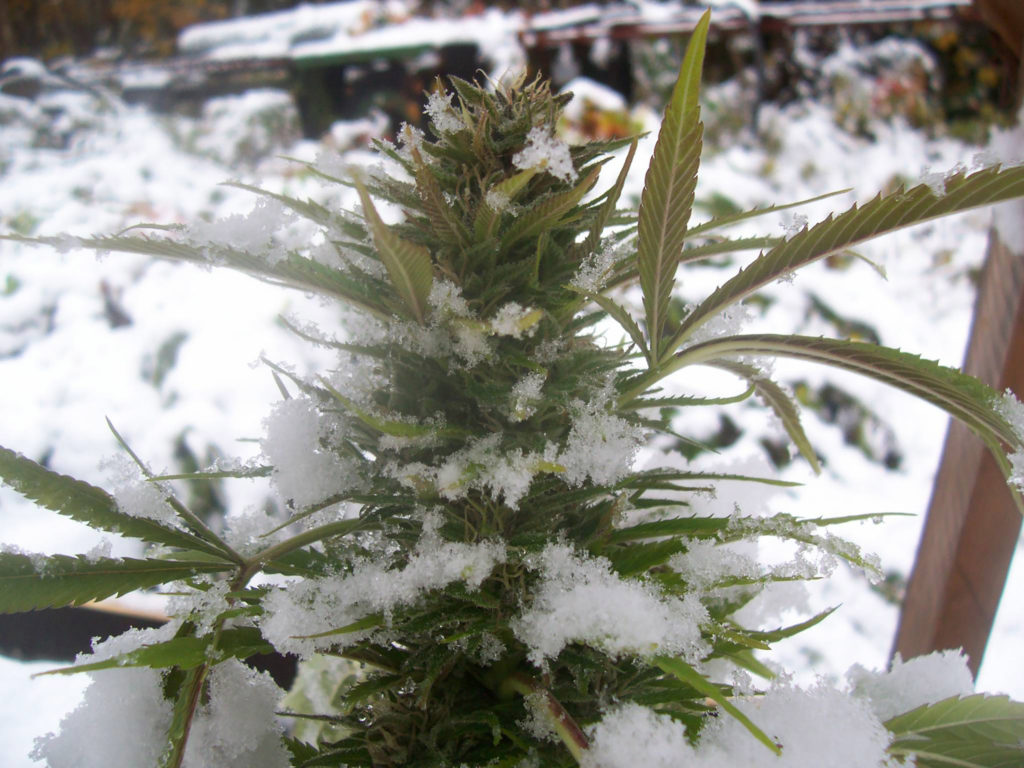 However, some adventurous greenhouse growers will add the supplementary lighting and then make sure that the greenhouse is covered so that light does not escape when it is dark outside. Thick, heavy blackout curtains or Mylar sheeting can do an excellent job here. Then, all that remains is to heat the greenhouse sufficiently and provide adequate airflow, and growing throughout the winter should become possible.
Every grower understands the temptation of growing their favourite strains throughout the winter, even if those strains aren't really appropriate for winter growing. If you can let go of that temptation and choose winter-appropriate strains, you might be able to avoid some of the difficulties in growing over a snowy winter.
Other things to consider when growing in winter
Temperature is one of the most important concerns when growing in the winter. Optimal daytime temperature for cannabis is 24-30°C (75-86°F), and optimal night-time temperatures falling in the range of 18-22°C (64-72°F).
Controlling humidity of cannabis grown in winter
Helpful info! Thank you! The summer here gets 10c at night so I see why there's a long stretch between nodes. Great find I know what I need to do .