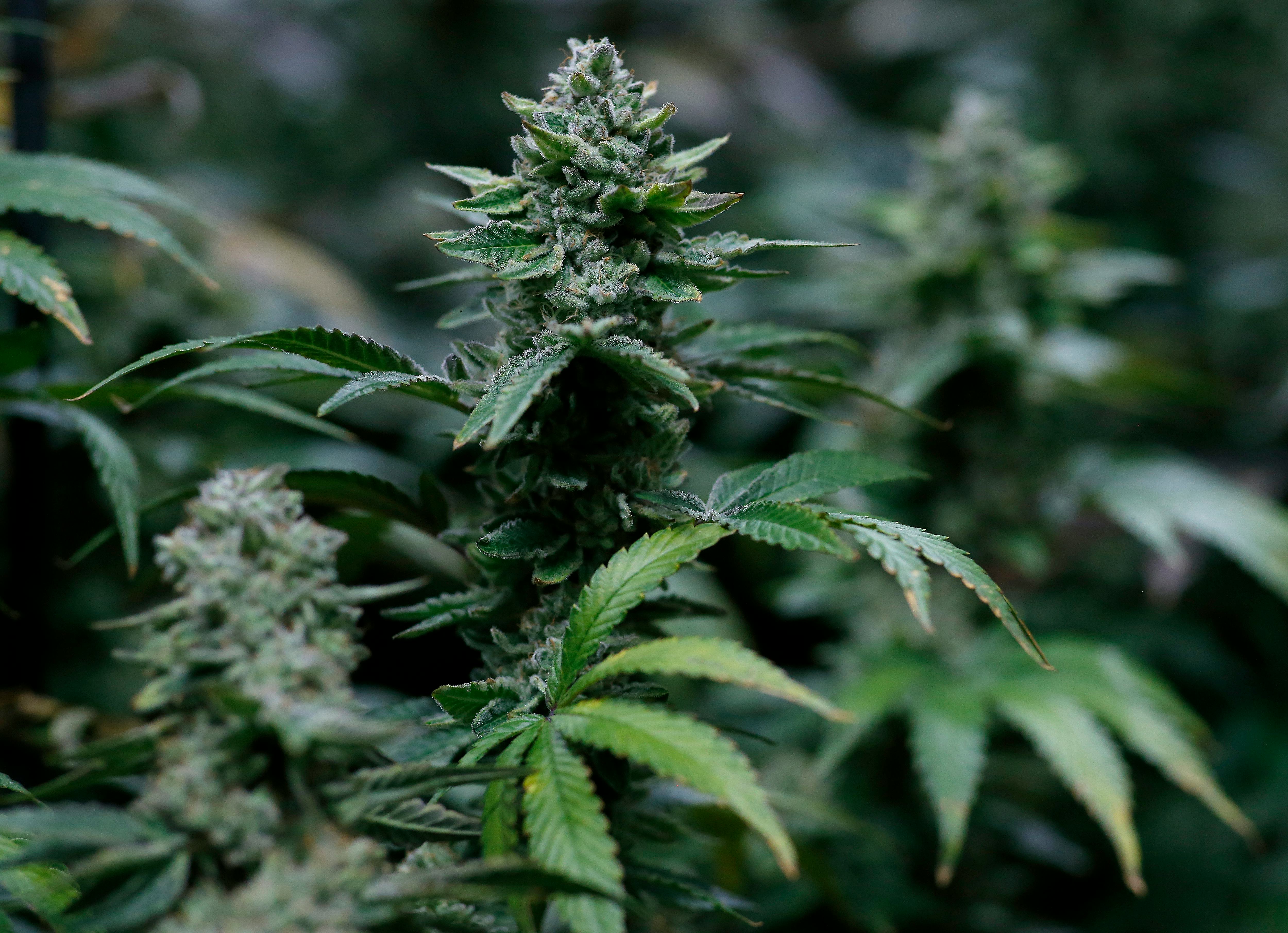 Since clones come from plants that have been grown indoors, let yours chill in a shaded area for a week before exposing them to full sun, Johnson says. "The clone hasn't tasted sun like that, and the transplant itself will be stressful."
If you use organic soil, all you'll really need to do is add water, Johnson says — but don't overdo it. The number one mistake he sees new growers make is watering their plants too often. In general, "watering every day is too much. The rule is, if you pick up your plant, and the pot is heavy, then it has a enough water. If it's light, it's dry, then you need to water." You could also stick your finger knuckle-deep into the soil; if it feels dry, add water.
Johnson notes that the outdoor grow season lasts from around April to October, meaning if you plant seeds now, they'd still yield flower, but not much. Since it's late in the season, he suggests buying a large clone, which will have more branches and therefore yield more flower.
Planting
Don't go overboard, though, he warns. Start with growing three plants in five-gallon pots. This way, if one dies, you'll still have two plants, and the pots will limit their growth. A general rule of thumb is that they'll grow one foot for every gallon of soil. He recommends mixing your own organic soil, which he explains how to do on his website and will save you the headache of adding nutrients or pH testing. "The soil is what we call alive," he says. "It's always breaking things down to replenish nutrients that are missing." But if you can't mix your own soil, or don't feel like it, you could buy organic Pro-Mix soil, which Johnson says many outdoor growers use.
Cannabis cultivation laws vary widely state-by-state. Also, we can't stress this enough: Growing cannabis is illegal in a lot of places, and the penalties — which include steep fines and prison time — can be much worse than possession, since growing can imply an intent to distribute. Black and brown folx need to be especially scrupulous about heeding these rules, since law enforcement targets us way more than white people for weed-related charges, even if we consume it at similar rates.
Upkeep
To check if your cannabis is ready for trimming, perform a break test on each branch. If it bends so much it nearly breaks, then it's ready, and if it breaks right away, it might be overly dry, but still totally usable. Trim off the buds and seal them inside a mason jar for curing, opening it periodically over the course of about four weeks to let moisture escape. Johnson outlines a detailed schedule on his website, including instructions on how to look for mold.
Do your homework and read up on the laws in your state. Some states prohibit growing cannabis, while others, like my home state of California, permits anyone over age 21 to grow cannabis, but only up to a certain number of plants. NORML has a pretty in-depth guide to the laws in each state. Colorado, Oregon, Nevada, Vermont, and Maine also allow cultivation, but again, the specifics depend on the state. Definitely clarify what your rights are before you start the glorious path to at-home bud gardening.
Your cannabis plants should receive as much direct sunlight as possible, ideally during midday, when the quality of light is best. As the season changes and fall approaches, your plants will get less and less sunlight throughout the day, which will trigger the flowering stage.
The sky's the limit with outdoor plants—you can let them get as big and tall as you want, as long as they're manageable. One plant can potentially yield between a half-pound and full-pound of dried weed! Growing a handful of hands for yourself is more than enough. With an indoor grow, your space is a lot more restricted.
Sunlight
Cannabis plants require a large amount of nutrients over their life cycle, mainly in the form of nitrogen, phosphorus, and potassium. How much you need to add to your plants will depend on the composition of your soil.
How to set up your outdoor marijuana grow
Garden plot: Probably the most common outdoor growing spot, many will plant cannabis alongside other growing veggies.
Adults can grow six cannabis plants at home or no more than 12 plants in a house with more than one adult.
How long does it take to grow cannabis?
If people want to clone their own plants, he recommended they plant multiple seeds at once, label each plant, and take a cutting from each one before they flower. People can then grow the cutting from whichever plant yields the best harvest.
What else do I need to grow a cannabis plant?
Growing from seed is a trial and error process and people should be prepared to "have a few rounds that are really disappointing" before they find that one best phenotype, he advised.