George Washington as a Farmer at Mount Vernon by Junius Brutus Stearns, 1851.
Growing hemp for the rope, linen cloth, and sacks would be useful on his property for a variety of tasks. Indeed, he was a proponent of growing hemp so that he would be able to repair the fishing nets that they used on fishing trips to the Potomac.
Great U.S. Presidents quotes
According to the Washington Post it is true that George Washington grew hemp in abundance, especially on one plot of land he called Muddy Hole. The Huffington Post goes on to say that in his farm journal of August 7, 1765, Washington notes that he "began to separate the male from the female hemp… rather too late." Thomas Jefferson wrote that hemp "is abundantly productive and will grow for ever on the same spot." Hemp was a popular plant at that time and had tremendous value for many industrial applications. At times Virginia farmers even had to pay to grow it. Hemp strains were utilized for making rope, creating canvas and even being spun into clothing.
Kentucky hemp farmer with his harvested hemp plants, 1942. Photo by Bobeocean CC BY-SA 4.0
Over the years, hemp would come to be seen as an important part of American production. While they were part of the British colonies, it was seen as necessary to aid the strength of their navy. After the United States gained independence, hemp was still primarily seen as a valuable crop and the government encouraged its growth.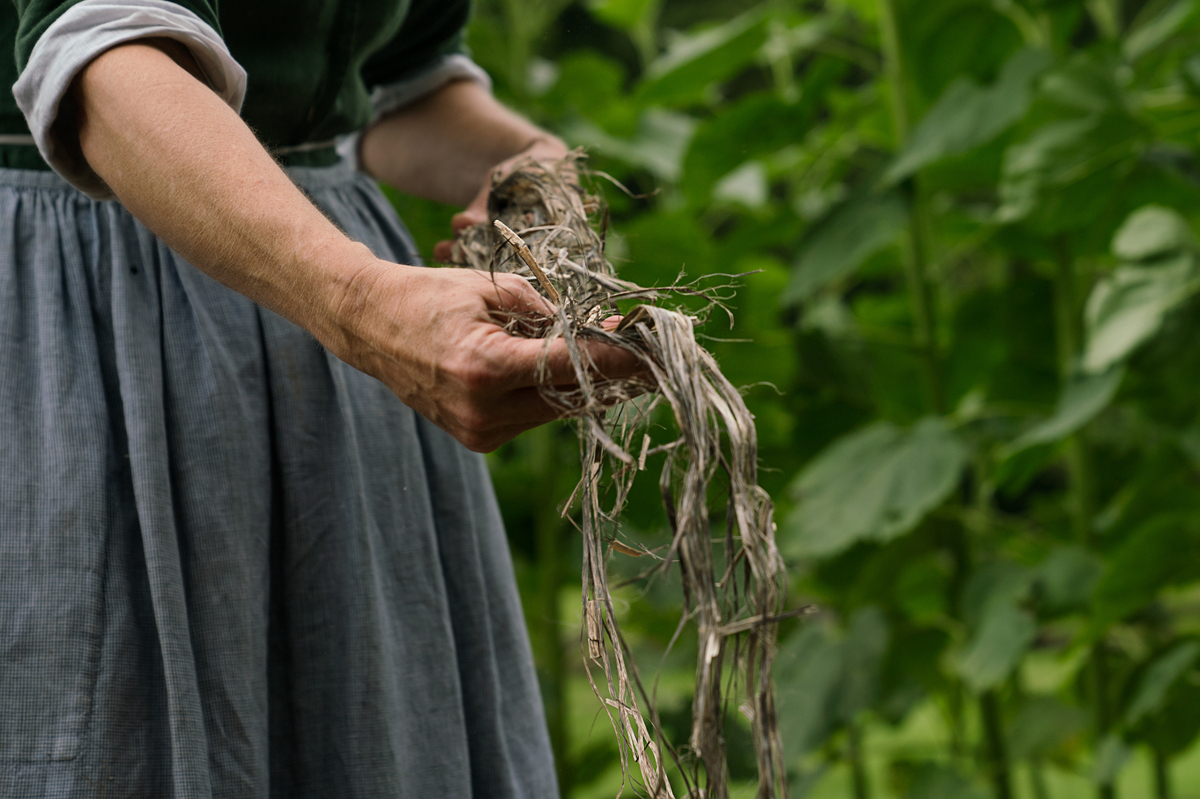 "This is totally for interpretive value," Norton says. "We could light a bonfire, sit around and nothing is going to happen to you."
"It is something that can boost their farming in a time when tariffs are inhibiting that," says Walden, who is also a member of the Virginia Industrial Hemp Coalition.
John Hudak is a senior fellow at the Washington, D.C.-based Brookings Institution and author of Marijuana: A Short History. He says there is a real opportunity to legalize industrial hemp because politicians are changing attitudes toward the plant.
This summer, horticulturists at Mount Vernon partnered with the University of Virginia and planted hemp once again. "To bring this crop back it just really helps complete our agricultural story," says Dean Norton, the director of horticulture at the estate.
Deborah Colburn, a historic trade interpreter at Mount Vernon, demonstrates the process of turning dried hemp into a pliable fiber for making cloth.
Deborah Colburn, a historic trade interpreter at Mount Vernon, demonstrates the process of turning dried hemp into a pliable fiber for making cloth. Claire Harbage/NPR hide caption
It's time the federal gov changes the way it looks at #hemp, which is why Senator @RonWyden and I, along with @SenJeffMerkley, are introducing legislation that will modernize federal law in this area & empower American farmers to explore this promising new market.— Leader McConnell (@LeaderMcConnell) April 12, 2018
The type of industrial hemp grown at Mount Vernon is not the same cultivar of Cannabis used for recreational or medicinal purposes. Industrial hemp contains less than 0.3% tetrahydrocannabinol (THC) and therefore has no physical or psychological effects. Cannabis grown for recreational or medicinal purposes can contain 6% to 20% THC.
Hemp, Cannabis sativa, is a plant originally from central Asia. It was cultivated with, and sometimes in place of flax because the stem fibers are similar. By the seventeenth century, Russia, Latvia, and other countries around the Baltic Sea were the major producers of hemp. It was from these areas Britain obtained its supply. However, during periods of military hostilities, the English had trouble acquiring enough hemp.
Throughout his lifetime, George Washington cultivated hemp at Mount Vernon for industrial uses. The fibers from hemp held excellent properties for making rope and sail canvas. In addition, hemp fibers could be spun into thread for clothing or, as indicated in Mount Vernon records, used in repairing the large seine nets Washington used in his fishing operation along the Potomac.
Cutaway of the hemp stalk
Washington's Use of Hemp
Separated stalk of hemp exposing the fibers
Harvesting of the industrial hemp takes place each summer. After the industrial hemp is dried it is used in fiber-making demonstrations onsite.
At one point in the 1760's Washington considered whether hemp would be a more lucrative cash crop than tobacco but determined wheat was a better alternative.
"I am very glad to hear that the Gardener has saved so much of the St. foin seed, and that of the India Hemp. Make the most you can of both, by sowing them again in drills. . . Let the ground be well prepared, and the Seed (St. loin) be sown in April. The Hemp may be sown any where. "
George Washington to William Pearce, 24 February 1794
Dress made from hemp