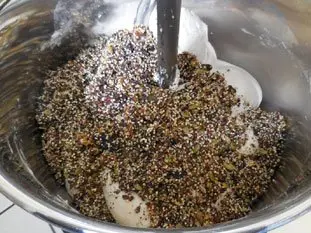 Put into a food-processor bowl: 1 kg plain white flour (French Type 65), 18 g salt, 250 g leaven, 7 g yeast and 600 g water.
In bread-making, the water temperature is always important. It's not a fixed value, but related to 3 other temperatures: 1) the temperature of your flour, 2) the room temperature in your kitchen, and 3) the basic temperature of this recipe, which is 56-60°C.
Delicious on its own, this bread makes excellent toast to go with foie gras, adding an amazing complementary crunch.
Stage 12 – 5 min.
Knead for a few more minutes, just to mix the seeds in.
Put in the oven for 20 minutes to dry roast.
Knead on slow speed for 18 minutes or, to be more precise, check for the gluten membrane using the window-pane test (see how in this video).
Stage 11 – 1 hour 30 min.
Preheat the oven to 360°F (180°C).
Leave to rest for 20 minutes.
×
Ingredients
Substances or products causing allergies or intolerances: Gluten, Soybeans
NOVA group
→ Ingredients are listed in order of importance (quantity).