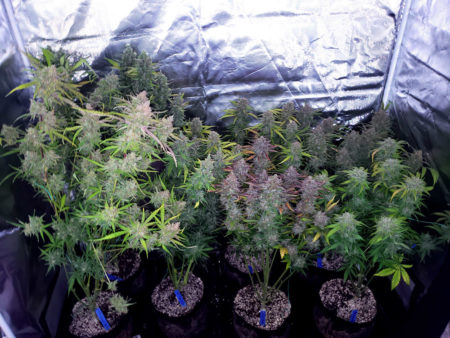 At what age do cannabis plants start to smell?
The cannabis buds we know and love have a noticeable smell. They stink. I love the smell, some people hate it, and every strain is different.
The answer is that each individual strain and plant is different. But here's what to keep in mind:
Short Answer: The smell starts at 3-6 weeks old (depending on strain) even in the vegetative stage. But the smell gets much worse after plants start flowering/making buds.
But when growing weed, do the plants start smelling? And how much?
The leaves of a cannabis plant smell a little, but the buds smell a lot. When plants are young they don't make a lot of smell, but once the plants get big and start growing buds, the smell can be intense.
If you want to make your grow as discreet as possible you'll need to set up a decent air filtration system, as well as some sort of anti-odor method that covers, gets rid of or filters the smell of cannabis. We're going to give you a run-down of some of the best methods that you can use to hide the smell of cannabis plants indoors, which can save you a lot of grief in the future.
How to Hide the Smell of Growing Weed Indoors | Before growing
Odor filter + Neutralizer + Gel; You can install an activated carbon filter, odor-killing gel inside your ducting about a meter away from the extraction fan outlet and a Neutralizer at the entrance to your house.
Ozone Generators
Carbon filters are classic cannabis filtering devices. Not all carbon filters work the same when it comes to filter power and lifespan; you may want to pick a high quality device – you may need to shell out a bit more money. You'll also need to pick one that's right for your extractor or else it won't work correctly.