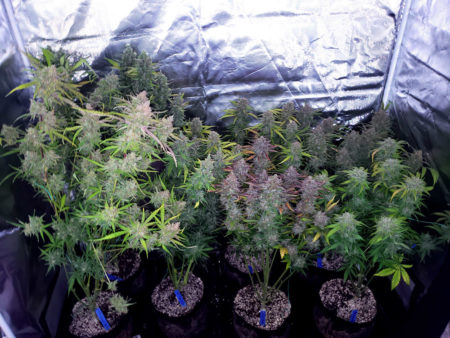 At what age do cannabis plants start to smell?
But when growing weed, do the plants start smelling? And how much?
The cannabis buds we know and love have a noticeable smell. They stink. I love the smell, some people hate it, and every strain is different.
The answer is that each individual strain and plant is different. But here's what to keep in mind:
Short Answer: The smell starts at 3-6 weeks old (depending on strain) even in the vegetative stage. But the smell gets much worse after plants start flowering/making buds.
The leaves of a cannabis plant smell a little, but the buds smell a lot. When plants are young they don't make a lot of smell, but once the plants get big and start growing buds, the smell can be intense.
Plants need 18 hours of light a day when in the vegetative stage and 12 hours a day when flowering. The reduction in light from 18 to 12 hours a day is what triggers the flowering cycle—when weed plants start to grow buds.
Indoor space
Good soil for cannabis relies on a healthy population of mycorrhizae and soil bacteria to facilitate the conversion of organic matter into nutrients that a plant can use. Alternately, you can use a regular soil mix and then supplement your plants with liquid nutrients.
Finding the right soil for cannabis
Inexpensive options include standard plastic pots or cloth bags, while some growers choose to spend more on "smart pots" or "air pots"—containers designed to enhance airflow to the plant's root zone.