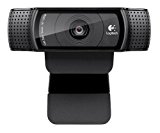 Watch as these young plants are trained to fill up a ScrOG net. ScrOG stands for "Screen Of Green" and refers to using a "screen" (usually made of string) to force plants to grow into a flat canopy.
Although this plant recovers, you can see how badly the burns stunted its growth, and you'll notice that the regrowth that follows is a bit odd as the plant "ditches" the burnt parts and then gets back into the swing of things.
This time-lapse video spans 5 days, a frame was taken every 6 minutes. 24fps .
Young plant burned by Pyrethrum while lights are on & recovery
You can see the extreme stress the Pyrethrum combined with grow lights has put on the young plant.
Get the Web Camera used in the above time-lapse videos:
Recovery of Topped Marijuana Plant & Formation of 2 New Colas
In this video, a young marijuana plant is topped and you can watch as the two growth tips from the top node (quick picture cheat sheet explaining nodes & growth tips) turn into the two new main colas.
This time-lapse video spans 7 days
Forest Dream is an outdoor variety developed in The Netherlands for growers with climates similar to the Northern European average. She is often ready to harvest in early October and uses robust, proven sativa genetics.
The high powered anti-anxiety high combines with a mouth watering zesty flavour of freshly picked citrus fruit. Home grown cannabis simply doesn't get much better than this! Auto Orange Bud is just as easy to grow as the rest of the Dutch Passion autoflower strains. Expect a straightforward, easy grow and a harvest around 10-11 weeks after seed germination.
One of the best features of Auto Lemon Kix is the unique, sweet multi-layered candied fruit flavours. It really is an unusually rich and delicious taste. Combined with the sky-high THC levels, the deliciously sweet taste completes the perfect all-round package. She's easy to grow with heavy yields. What are you waiting for?
Auto StarRyder grows in an Xmas tree structure with plenty of side branches. These should yield heavily in good grow conditions. The plants often tend to remain on the compact side, making her a convenient indoor and outdoor strain.
Auto StarRyder time lapse video
Time-lapse videos are a great way to show you how the plants grow. Serious growers may also be interested in checking out the full Dutch Passion archive of grow reviews. You can find them here…
Another member of the elite Extremely High THC seed collection, Auto Lemon Kix is one of the most potent autoflower strains currently available. The mind-numbingly powerful THC levels suit the more experienced cannabis user aiming for maximum potency.
Auto Colorado Cookies uses connoisseur quality parent genetics from Auto Blueberry and Girl Scout Cookies. This strain shows remarkable consistency, with all the plants generally showing similar XL growth structure and the same consistently very high THC levels. If you want predictable excellence from your grow room then Auto Colorado Cookies is a great way to achieve it.
Auto Orange Bud time lapse video
With a short life cycle, in order to get the most from Auto Blueberry a fast growth system such as a Hydroponics method can deliver good results. Coco fibre may also help deliver large plants. Enjoy the great taste and the blissfully enjoyable high from this repeat customer favourite!
If you like sweet, tropical fruity banana flavoured buds with heavy yields then Auto Banana Blaze is a perfect selection for your grow room. This auto strain suits the grower needing a plant with numerous chunky blooms, fast growth and no complicated grow room maintenance. Auto Banana Blaze reaches around a metre tall and is ready to harvest in about 11 weeks.