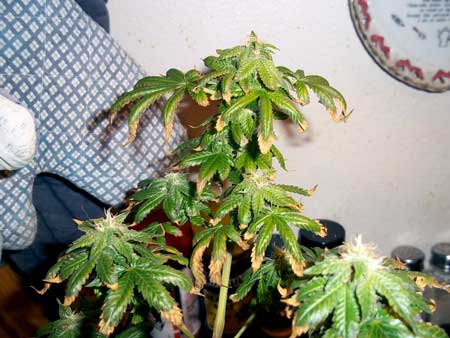 Important: Do not use "Miracle Gro" soil or any soil that has "extended release" nutrients. These types of soil will continue to release nitrogen to your plant roots for up to 6 months. This can burn your cannabis plants in the flowering/budding stage and reduce your overall yields.
Miracle-Gro Slow Release Soil is Not Suited to Growing Marijuana!
Avoid Miracle-Gro Soil for Growing Weed!
Do not use "Miracle-Gro" soil or any soil that has "extended release" nutrients for growing cannabis. These types of soil will continue to release nitrogen to your plant roots for up to 6 months. This can cause deficiencies or burn your cannabis plants in the flowering/budding stage, reducing your overall yields. I have seen growers successively grow cannabis in Miracle Gro, but many of them struggled with nutrient problems in the flowering stage (like the following) even though plants were healthy throughout the vegetative stage.
There's nothing inherently wrong with Miracle-Gro nutrients, and if you're willing to learn about nutrients, you can use the various different formulas and get a cannabis plant to grow. For example if you're using regular soil, you could use the standard Miracle-Gro formula for vegetative, and their "bloom" version for the cannabis flowering stage.
What's worse than the standard Miracle-Gro nutrients is the original Miracle-Gro soil. Standard Miracle-Gro soil has "time-released" nutrients which contain high levels of nitrogen. While this formula will work okay in the cannabis vegetative stage (the first stage of life), the nutrients will continue to be slowly released throughout the plant's life including during the cannabis flowering stage, which is not good.
The biggest problem with the standard Miracle-Gro nutrient formula is that it's one formula for the entirety of the plant's life cycle. Even if the standard Miracle-Gro plant food is decent for the first stage of your plant's growth, it won't be good for the budding/flowering phase. The ratio of nutrients your plants need changes drastically between seedling and full flower. Marijuana grows best with a nutrient system that accommodates their changing nutrient needs.
Many of us have grown up seeing Miracle-Gro being used in our homes, so we know that it works for 'regular houseplants'. Cannabis is just a tough weed, so Miracle-Gro should be great for it, right?
Standard Miracle Gro nutrients contain too much nitrogen and not enough of other nutrients for your cannabis flowering stage, and as a result of the time-released nutrients, you will notice that your leaves in the flowering stage will get nutrient burn and your buds just won't grow as big as they could. Learn what you can do to make sure buds grow as big as possible!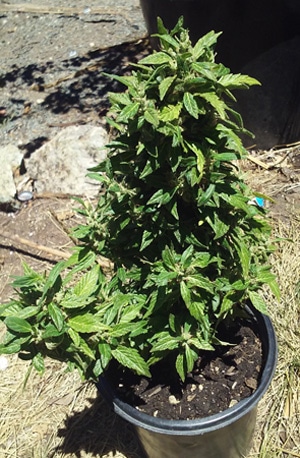 Compare that to a Bagseed plant…
You want your plant to be green and healthy, but dark green leaves and burnt tips are signs your plant is getting more nutrients than it can use.
In the later part of the flowering stage, too-high levels of nutrients may add a 'chemically' taste to your buds, so it's especially important to be careful. Nutrient toxicities are most common with mineral (non-organic) sources of nutrients because they are quickly absorbed by the roots regardless of whether the plant needs more.
Check out our full tutorial on male vs female cannabis plants:
https://www.growweedeasy.com/marijuana-boy-girl

Myth #7 "Adding juice/food to plants before harvest increases taste/potency/flavor."
Here are a few other myths we've heard that aren't as fun and/or popular, but we thought were worth pointing out:
It's helpful to remember that cannabis plants didn't evolve to grow indoors, so we make adjustments to accommodate their natural behavior. For example, cannabis plants grow in a Christmas-tree shape in nature, so we top them to make them have a falt canopy when growing indoors. Similarly, defoliation helps to deal with the fact that a healthy cannabis plant simply grows more foliage than needed for an indoor environment such as a grow tent.
A real cannabis nutrient system allows you to control exactly how much Nitrogen you're giving your plant, so you give the right amount of nutrients at the right stage of life. More Nitrogen isn't always better, especially in the flowering stage.
Myth #4 "Male plants should be harvested for THC."
The Topsy Turvy is designed for plants with hanging fruit, like tomatoes. It is not suitable for growing cannabis plants. Cannabis plants don't hang. Instead, they will constantly try to grow upward against gravity.
If the garden gimmick is made for herbs or other non-cannabis plants, it often isn't a great choice for cannabis! Before you invest your time or money in a particular product, take a moment to search Google or check online and see what results other growers are getting!