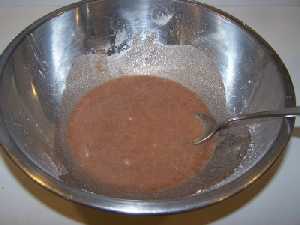 – 1/4 cup sugar (OR 1/8 cup sugar and 1/8 cup Stevia (in a prepared form like Truvia, it measures same as sugar; if you use another form, you'll need do your own conversion) – or Splenda, if you prefer, )
*This also works great with similar berries, like Marionberries, Tayberries, Loganberries, Boysenberries, Ollalieberries, even Salmonberries
– 1/4 cup butter or margarine
Step 8 – Make and add your topping
Here's how the Foley food mill (below) works. They cost about $30.
together in a small bowl and sprinkle it over the pie.
I prefer seedless blackberry jams and jellies. The easiest way to do this is to use a food mill; either a Foley food mill (a manual hand crank device,) or a Villaware (manual or motorized) or a Roma mill. I find the seeds separate more easily if I heat the blackberries up until almost boiling, in a pan with about 1 cup of added apple juice.
Blackeberry Pie Recipe: How to make the world's best seedless blackberry pie! With EASY illustrated directions!
Cook the pie at 375 F (or 190 Celsius) for 1 hour.
Set the pie on a rack to cool and enjoy! Here is a slice of the finished pie! Serve warm with ice cream. Refrigerate after it is cooled. It easily lasts a week in the fridge (that is, if there is no one there to eat it. Most of the time, people eat it all within a day!)
1/2 teaspoon ground cinnamon
5 to 6 cups blackberries , rinsed, picked clean, patted dry (if you use frozen berries, defrost and drain them)
Honestly I think it was one of the best pies I've ever made, and that's saying something, because I like to make pie. The filling held together (instant tapioca is a great thickener), the additions of lemon, cinnamon, and almond extract just intensified and enhanced the blackberry flavor.
Tips for Blackberry Picking
Preheat oven to 400°F. You should have two balls of pie dough, one for the bottom crust, one for the top crust.
1 teaspoon lemon juice (use 2 teaspoons if using store-bought berries)
How to Select Wild Blackberries for the Best Pie
1 teaspoon lemon zest
1/4 teaspoon almond extract