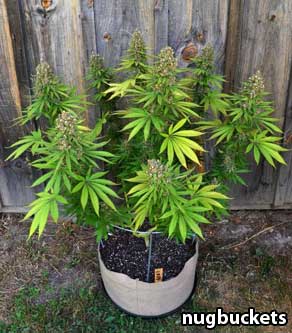 The "micro-herd" in the soil delivers nutrients directly to your plants. As long as you're using decent water, you usually don't need to worry about pH or other things that can disrupt nutrient absorption in regular soil.
Espona Organic Potting Mix is found in many stores in the US, and works for growing cannabis!
Usually an organic potting mix does not have enough nutrients to last your plants for more than a few weeks, so it's a good idea to always supplement with cannabis-friendly nutrients, especially in the flowering stage when your plant is making buds and needs lots of extra Phosphorus and Potassium.
Good Cannabis Soil
The plant is growing in organic, composted "super soil" which has enough amendments to last your entire grow, so the only thing you do is add water!
Kind "Super" Soil (Living Soil)
Here's organic "super" soil up close
Good Cannabis Soil
Rich and light composted soil. Since this soil doesn't have a lot of perlite, it's a good choice for a grower who doesn't want to add a lot of extra nutrients or supplements in the water.
What gets the best results for growing cannabis is a soil with a light texture that is good at retaining water…but not too much!
Organic Potting Mix
If you are willing to keep transplanting to bigger pots as your plant uses up the nutrients in the soil, you don't need to supplement with extra nutrients. However, even if you grow in the same pot from seed to harvest, Fox Farm offers a complete nutrient system that is also formulated for plants like cannabis and goes perfectly with their soil to make sure your plant is getting the right levels of nutrients throughout its life.
Bad Cannabis Soil
Although this seedling is over a month old, it has stayed tiny. Its growth is stunted by the thick heavy soil that holds way too much water and not enough air. Note how some of the soil looks like one solid object.
Make sure your plants get a loose and light soil texture to help with root growth and ensure oxygen gets to your roots.
Drainage
FoxFarm's Bush Doctor Coco Loco is a coconut coir potting mix meant to recreate the tropical jungle floor. Light and airy, it does this by incorporating layers of exotic coconut palm humus which can hold more than its weight in water while still retaining great drainage characteristics.
4. FoxFarm Coco Loco Potting Mix
Above all, you want soil with plenty of nutrients, proper drainage, and good water retention. Here are some factors to consider when buying the best potting soil for weed.