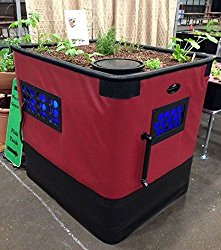 The secret to any successful aquaponics system is patience! You need to create a balance between the fish, bacteria and plants, and this takes time. Unfortunately, there's not necessarily a lot of ways to speed things up while your bacteria is being colonized.
Luckily there are natural sources to get extra nutrient supplementation without seriously affecting your fish. For example Maxicrop is a common nutrient additive made out of seaweed that works well in an aquaponics system to add potassium and trace minerals without hurting your fish.
It's like growing a cannabis plant in a way, you can do things to get the plant to grow faster, but no matter what you're still going to have to wait for the plant to grow until you get to harvest. You can help your bacteria grow, but they need time to build up their numbers and form a robust colony.
The Rearing Tank / Aquarium is where the fish or other aquatic creatures live. These creatures produce waste containing nutrients that are vital for plant growth. Common fish used in aquaponics include tilapia, koi and goldfish, but there are many other hardy species that can adapt to an aquaponic environment including blue gill and catfish.
3.) What to Do with Extra Fish
You would use a double root zone to set your system. The bottom half can be filled using hydroponic means or you can suspend the roots in water. The aquaponic system and hydroponic system are almost identical in many ways. The primary difference is the nutrient source. In this process, no nutrients are added to the water tank, but rather, you would produce them using the waste of the fish. The waste would be diluted and pumped and placed on the roots of the marijuana plant. The roots will absorb those nutrients and believe it or not, the water will be purified prior to it returning to the aquarium. The only input that you will need is fish food. You can grow this yourself or buy it locally.
The Aquaponic Systems and How it Works
What is the aquaponic system you may be wondering? Well, it is a method of growing marijuana that involves two effective and efficient systems, combing each of them so they can symbiotically work to benefit each other. This process is similar to aquaculture where people farm fishes like blue gill, shellfish and tilapia. Hydroponics is also similar in that you grow marijuana plants without using soil. Combining hydroponics and aquaculture process means that you create a closed loop system for both the fishes and the plant and make sure it is feasible for consumption. Let's take a closer look at the aquaponic system. Another time, we will examine growing marijuana in a greenhouse.
The Nutrient
There are several benefits to growing marijuana in an aquaponic system. For one, you will have multiple returns. As you grow your marijuana plants, you will also be raising some fishes that are protrient-rich. Usually, the tilapia will be ready within six to nine months, reading their desired size for human consumption. However, the speed at which it is grown will rely on the temperature of the water.